The EU office is based in Brussels, where IRU has been a trusted partner at the EU institutional level since 1973. 
The team works on two main areas – Advocacy and Research & Innovation, to uphold the interests of bus, coach, taxi, hired car with driver and truck operators as well as the broader mobility and logistics industry. 
The IRU Brussels office supports its EU members by monitoring and contributing to the legislative and awareness building processes on road transport issues dealt with by the EU institutions.
Our advocacy activities
The IRU team works on advocating for a dialogue between policymakers and the road transport industry to establish a simple and balanced EU legal framework for an even safer, more efficient and sustainable road transport system in Europe.
Read here our call to action for EU stakeholders to know more about our policy asks in Europe.
Helping Europe reach its carbon neutrality goal
Europe aims to be the first carbon-neutral economy in the world and the European road transport industry is committed to contributing to this goal. 
Sustainability must be the guiding principle of all greening efforts. Solutions already available now must be used to the fullest to yield immediate and lasting results.
Eco-trucks: Eco-trucks carry larger loads than standard vehicle combinations and their use offers economic and ecological and economic advantages; they offer a significant opportunity for reducing CO2 emissions by up to 40%. In the EU, two Eco-trucks can carry the same load as three regular trucks, reducing energy consumption, CO2 emissions and congestion. To take full advantage of all the benefits, an EU legislative framework to harmonise the cross-border use of Eco-trucks across the region is needed.
Urban Vehicle Access Regulations (UVARs): Bus and coach operators are continuously striving to further green their operations but they currently lack commercially viable alternatives to diesel. Cities should be more conscious of this reality, in order to propose adapted urban vehicles access regulations. EU rules are needed to harmonise the local decision-making and ensure that buses and coaches are allowed to play their role as an affordable and environmentally friendly alternative to car use.
Alternative fuels - Because commercial vehicles serve different purposes, they need to have the whole range of alternative fuels available in order to pick the most appropriate fuel and technology from an environmental and business perspective. The EU should adopt a well-to-wheel approach that considers emissions reduction opportunities beyond tailpipe emissions.
Ensuring safer and fairer working conditions
IRU is the official social partner recognised by the European Commission to engage in negotiations with trade unions on behalf of EU road transport employers. In that role, IRU together with its partners in Europe have initiated comprehensive work on tackling the root causes of the increasingly acute driver shortage.
Driver shortage: Europe is facing the most acute driver shortage in history with over 20% of the jobs unfilled. The lack of drivers represents a real threat to the smooth functioning of supply chains and the EU mobility and economy as a whole. IRU is regularly surveying its European members to evaluate the scope of the problem. Based on collected insights, IRU has established a roadmap to tackle the different aspects of driver shortage. We are also working with several partners to promote driver opportunities. Read more about our actions on driver shortage here
Safe and Secure Parking Areas (SSTPAs): Europe is lacking 100,000 parking places for truck drivers to take their rest, while most of the existing parking areas for 300,000 trucks are below acceptable standards. 
Check our actions with EU stakeholders:
Enforcement: IRU follows closely all the regulations affecting drivers and transport operators. As part of our focus, we pledge for a coherent and comprehensive vision and strategy on the enforcement of road transport rules. 
Driving prosperity
A more connected world is key to building more prosperous economies, so IRU and its partners promote clear and transparent standards necessary to build prosperity and growth. In Europe, IRU focuses its activities around:
Digitalisation: The road transport industry incurred administrative costs amounting to € 6 billion in 2018. Digitalisation will help to significantly reduce these costs. Open data, the digitalisation of transport documents, the interoperability of platforms and new business models such us Mobility as a Service (MaaS) are set to become daily realities, bringing both opportunities and challenges. If you want to know more about MaaS, take a look at IRU's page and position on the topic.
Mobility Packages: The European Commission's three Mobility Packages represent the biggest change to the EU road transport rules to date, covering many aspects of the industry's activities. The Mobility Packages are intended to address a number of problems or support specific developments within the European road transport sector aiming to achieve a better harmonisation and simplification of the rules for a more consistent enforcement across all Member States. IRU developed a microsite explaining the impact of the proposed rules and IRU's positions on the different aspects of the three packages.  
Brexit: Each day, between 7,000 and 10,000 trucks use the Calais-Dover route alone. Every year, several million passengers cross the Channel by coach. A no-deal Brexit therefore represents a major threat to trade and mobility. A deal between the EU and UK is needed in order to allow commercial road transport activities to continue in the smoothest possible way.  Read IRU's position papers and different analysis on Brexit.
Building the industry's future
The IRU research and innovation team engages with projects funded by the European Commission, to see innovation become a reality on the road. 
These projects look at the future of transport by developing new technologies and ways of operating that will support the commercial road transport industry face the challenges of tomorrow. Their ultimate goal is to foster increased sustainability and safety for road transport while also taking into account the social impact of innovation in the sector. 
Click here to learn more about our current projects.
IRU regional office
European Union (Brussels)
European Union (Brussels)
General Delegate: Raluca Marian

71 Avenue de Cortenbergh
1000 Brussels,
Belgium
Tel: +32 2 743 2580

More about IRU in Europe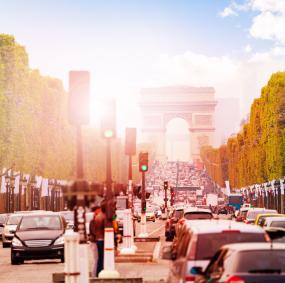 See our links to know more about our related events & documents.
Learn more
IRU partners in Europe