For the next IRU 75th anniversary event, our eyes turn to Türkiye, the home of New Industry Shaper Gülsen Demirci, a mother of two living her dream.
As IRU members, transport companies, development organisations and public authorities gather in Istanbul, Türkiye, today for a key regional event on pressing challenges facing the road transport sector, we caught up with Gülsen Demirci, a Turkish truck driver and New Industry Shaper.
What's your job like?
I work as an international truck driver for Hilal Trans in Istanbul. 
I drive between Türkiye, central Europe and the Baltic region. But there is a lot more to it, like loading, offloading, dealing with technical issues, going through customs, etc. The job is more varied than you might think.
How do you manage the different responsibilities?
The most important thing is to respect my profession and people. I take great pride in my job because it has always been my dream. We all have very different backgrounds and life paths in this profession. I always try to be respectful with everyone I meet, which allows me to do a better job.
What made you want to become a truck driver?
Maybe the idea of travelling, discovering the world. There is a sense of freedom when you are driving a big truck across international borders. 
In 2019, I started working as a security guard for Hilal Trans, which already took me one step closer to my dream. A couple of years later, they gave me the opportunity to train as a driver. Finally, my dream came true!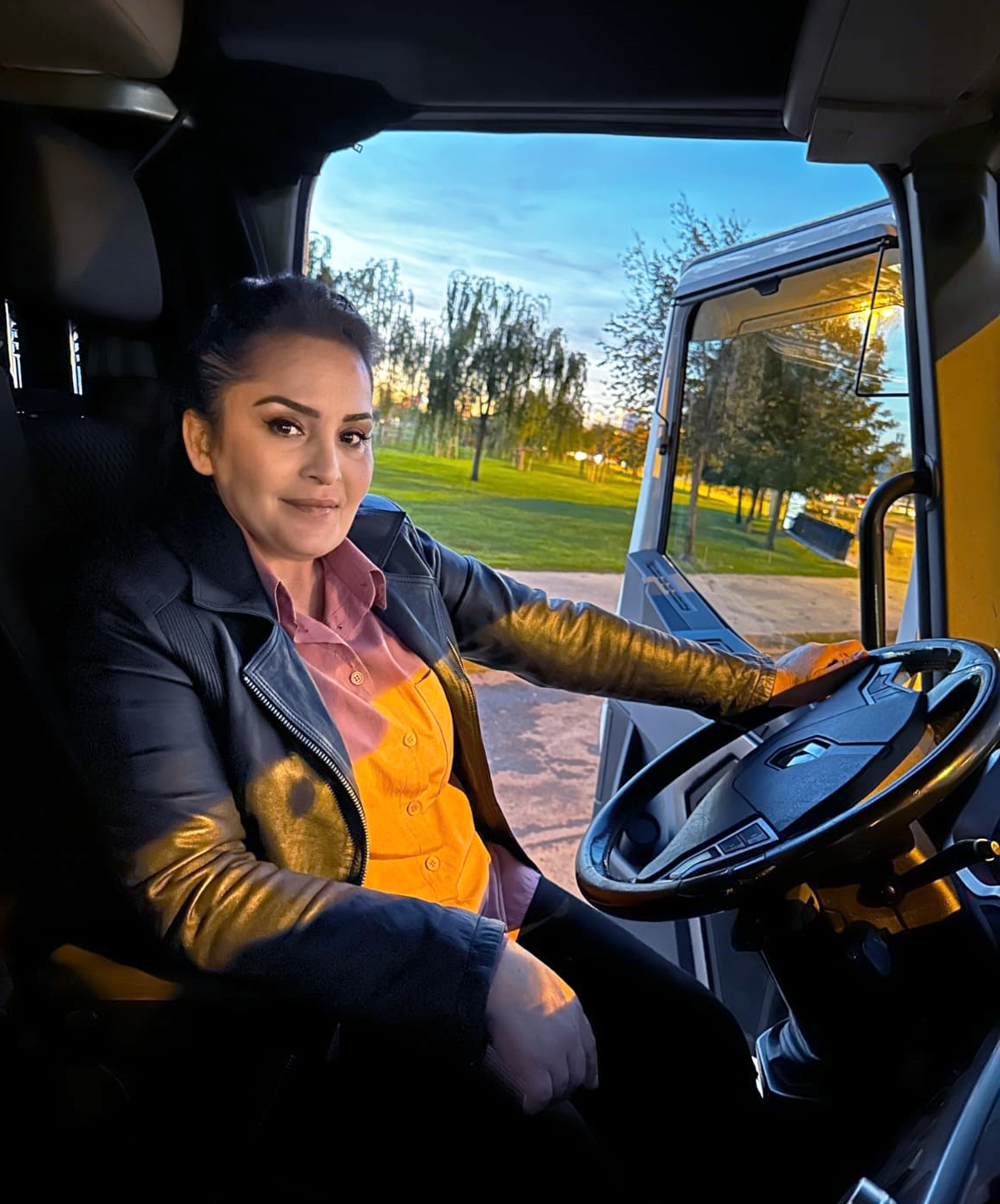 Do you have many female colleagues?
When I started, there were not many female truck drivers. I have noticed that there are more now. So maybe I'm a trendsetter! 
I like to think that as women see me behind the wheel of my truck, some will realise that they can do it too if they want. As I see more female drivers on the roads, my hopes for the sector increase every day.
Do you face any challenges?
I face challenges from time to time but not more than any other job. Like most professions, the conditions can be stressful sometimes. Also, being a woman in a male-dominated environment can be challenging at first, but I think it is becoming easier as the number of female drivers increases.
What would you say to younger people who are unsure about becoming a truck driver?
I would say, first, that this job is very different in practice from how it looks from the outside. Kids – and girls, especially – should keep an open mind to becoming a truck driver. It is a very rewarding profession! You get to see the world and, with experience, you can access higher positions. 
Being away on the road for long periods of time can be difficult. Do you have any advice for work-life balance?
I'm a single mother with two kids and I certainly do miss them when I go on long trips. It is never easy to leave your loved ones for a long time, there is no solution for that. 
But drivers create their own social world on the road, so we are rarely lonely. Also, we are lucky to have smartphones nowadays. It really helps to just see your kids' faces and hear their voices.
My only advice for work-life balance would be to set one strict rule: a big hug before anything else when you get home! 
IRU's 75th anniversary event in Istanbul, organised with TOBBUND and DFDS and in partnership with TOBB and UND, is taking place today within Logitrans, Türkiye and Eurasia's most important logistics exhibition.