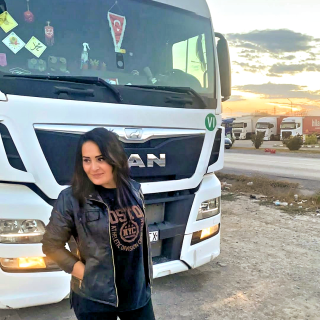 Gülsen Demirci
Occupation
International truck driver
A mother's dream come true: I've always wanted to be a truck driver
I'm a 43-year-old mother of two from Tokat Niksar, Türkiye.
I started working when I moved to Istanbul from Tokat in 2019. 
After completing my private security training, I worked at Hilal Trans as a private security guard for over two years. 
But I always wanted to be a truck driver. 
With the encouragement and support of the management team at Hilal Trans, I completed my training and became a driver. My dream came true. I love my job!
As in other sectors, the share of women working in logistics is growing. I am proud of my female colleagues. I believe that a woman can do any job she wants. I've always supported women who wanted to do this job but did not dare. 
I would like to thank the Hilal Trans family for the opportunities they have given me. I wish all my colleagues success and safe driving.
 
The views and opinions expressed by the New Industry Shapers do not necessarily reflect the views or positions of IRU.