IRU has highlighted the important role that investing in human capital and professionalisation plays in improving transport at Saudi conference on supply chains.
Industry leaders and experts have gathered at the 3rd Supply Chain Conference in Riyadh, Saudi Arabia, to discuss topics such as the latest technology used in supply chains and the implications of the Kingdom's 2030 vision.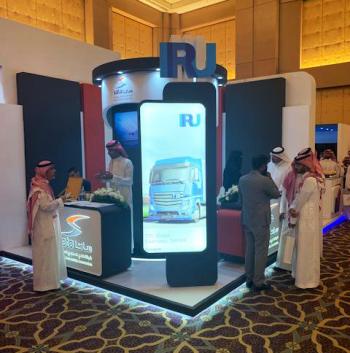 IRU presented how leading companies leverage data to manage their transport supply chain risks, emphasising how professional driving certifications and standards, such as IRU's certification programme RoadMasters, support industry growth.
IRU RoadMasters optimises commercial driver competencies and equips companies with the right data to make informed decisions and mitigate operational risks. Based on industry-established skills profiles for goods, hydrocarbon and passenger transport, RoadMasters maps driver performance data in digital dashboards with sophisticated analytics.
IRU also held a workshop in cooperation with Saudi's Zakat, Tax and Customs Authority and IRU member SATA. The workshop showcased how TIR supports the economic development of Saudi Arabia and its 2030 vision by ensuring the secured, efficient and seamless transit of goods in the region and beyond. Saudi Arabia's efforts in trade digitalisation have garnered the interest of multinational logistics companies and led to a considerable increase in TIR movements since 2020.
The event was organised under the umbrella of the Ministry of Industry and Mineral Resources. HE Saleh Al-Jasser, Minister of Transport, opened the event, which was attended by the Deputy Minister of Transport, HE Dr Rumaih Al-Rumaih and the Deputy Minister of Industry and Mineral Resources, HE Osama Al-Zamel, as well as over 1,000 participants from the private and public sectors. 
Ahead of the conference, IRU Secretary General Umberto de Pretto and HE Engineer Suhail bin Mohammed Abanmi, the Governor of Zakat, Tax and Customs Authority, held talks in Riyadh last week on Saudi efforts to streamline trade and drive TIR forward in the GCC region and beyond.
With almost 75 years of expertise in connecting societies with safe, efficient and green mobility and logistics, IRU is working to support Saudi Arabia in reaching its 2030 vision.