IRU Secretary General Umberto de Pretto and HE Engineer Suhail bin Mohammed Abanmi, the Governor of Zakat, Tax and Customs Authority, have held talks this week on Saudi efforts to streamline trade and drive TIR forward in the GCC region and beyond.
In line with "Saudi Vision 2030", which aims to maximise the potential of the country's non-oil sectors and bolster its role as a transit hub at the heart of the Middle East, Umberto de Pretto and Suhail bin Mohammed Abanmi focused on the longstanding collaboration between IRU and ZATCA.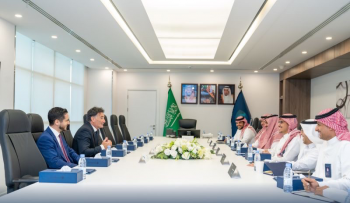 Discussions highlighted the pivotal support that ZATCA is providing to the TIR system in Saudi Arabia. The Kingdom now has dedicated express lanes for TIR shipments, a business-to-government IT integration system, and streamlined customs procedures. 
These advancements have garnered the interest of multinational logistics companies and led to a considerable increase in TIR movements since 2020.
The meeting also addressed the level of facilitation as well as the heightened security that the TIR system brings to international trade.
IRU Secretary General Umberto de Pretto said, "IRU is proud to support ZATCA in setting international standards in security and trade facilitation and overall logistics performance. These efforts will undoubtedly support the Kingdom's 2030 vision and reinforce its significant role in trade in the GCC and beyond.
"I look forward to seeing how much more the country can progress in the next 5 to 10 years. My discussions here have made it clear to me, we have yet to see the Kingdom's full potential as a trade hub."
Both parties acknowledged that Saudi Arabia's ongoing transformation towards becoming a modern logistics centre in the Middle East goes hand in hand with the development of TIR in the region. 
Supply chain and logistics conference in Riyadh
The annual Supply Chain and Logistics Conference will start on 16 October in Riyadh. The conference will gather supply chain and logistics actors who will discuss topics such as the latest technology used in supply chains and the implications of the Kingdom's 2030 vision.
IRU's booth at the two-day event will focus on the development of TIR in the region, as well as professional driving certifications and standards, including RoadMasters, a certification programme that optimises commercial driver competencies and equips companies with the right data to make informed decisions and mitigate operational risks. 
IRU Director of Certification and Standards Patrick Philipp will also be speaking at the conference on 17 October.