Ninatrans CEO and President of IRU member FEBETRA Benny Smets knows a lot about time-critical transport, especially for his client AB InBev, the world's biggest brewing company. And he knows a lot about sustainable logistics and reducing carbon footprints. That's why he turned to Eco-trucks five years ago. European rules need to catch up.
Ninatrans is a Belgian road transport and logistics company, based close to the city of Leuven, well-known for its centuries old university and beer-brewing tradition. A family business now in its third generation and specialising in time-sensitive shipments, Ninatrans has locations in Belgium, Germany and Czechia. Benny Smets is its CEO.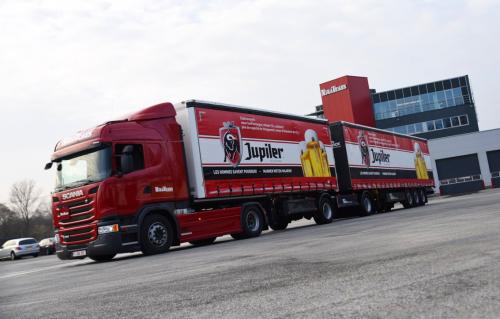 Ninatrans has been a pioneer in deploying Eco-trucks and was the first Belgian company to take part in a trial back in 2015. 
Since then, Ninatrans has had one Eco-truck stretching 25.25 metres long on the road, initially only in the Flemish part of Belgium. In 2017, Ninatrans extended its Eco-truck operations to the French speaking part of the country, where paperwork was initially problematic. 
"Again, this was not straightforward because our Flemish authorisations were not automatically recognised by the authorities in the French speaking part of Belgium," explains Benny. 
Ninatrans' experience is reflective of the issues found by many operators wishing to deploy Eco-trucks: there is a significant lack of harmonised regulations for these longer vehicles. While governments have amended regulations to allow for larger planes, ships and trains, weights and dimensions legislation for heavy goods vehicles has remained unchanged for decades. 
Why Eco-trucks?
When asked about the reasons for deploying Eco-trucks, Benny Smets, who has a deep knowledge of the opportunities and challenges in the goods transport and logistics market, is clear, "the demand for transporting goods by road is continuing to increase and, at the same time, as industry we have to reduce our carbon footprint. The Eco-truck is a quick win, as it is relatively easy to deploy in a short period of time.