Rather than prescribing solutions like electrification to decarbonise road transport, policymakers should focus on creating a framework for innovation that takes a technology-neutral approach, argues MEP Barbara Thaler.
Barbara Thaler is an Austrian MEP with the Austrian People's Party (Österreichische Volkspartei), affiliated to the EU's centre-right EPP Group. She is a member of the European Parliament's transport committee.
This article was originally published by Euractiv
The European Parliament has given its backing to a ban on the sale of new petrol and diesel cars from 2035, which proponents say is necessary to limit carbon emissions. The EPP, however, did not support this. Can you outline why? 
For us as EPP, the principle of technology-neutrality is the foundation of each policy. True sustainability demands not only climate change measures, but also measures which safeguard the competitiveness of Europe's economy and ensure social balance.
It is not sufficient, when the Green Deal is just green, it needs to be a Deal as well. In this context, a Green Deal needs also Green Jobs. With a solemn focus on battery electric mobility, we miss these measures and the chance to build a European market and industry for renewable fuels; we just shift the dependency of resources even more towards China.
There is no reason at all for not acknowledging sustainable bio-fuels and synthetic fuels as climate neutral. Europe needs the internal combustion engine. There is no need for a ban if it can be powered in a climate neutral way. Besides that, our targets are ambitious and in order to reach them, we need the whole bouquet of options available.
What would you like to see regarding the upcoming proposal for CO₂ emission standards for heavy-duty vehicles?
Also here I would like to see a technology-neutral approach. Which means, no more tailpipe measurements. The vote on the crediting scheme for cars and vans was tight, so I hope the Commission took note and they will come forward with a proposal that incorporates the whole lifecycle emissions measurement, instead of a tiny piece within the whole chain.
Some have touted synthetic fuels as a means to make internal combustion engine vehicles carbon neutral, though critics say they are inefficient compared to electric vehicles. What is your position on synthetic fuels as a solution for road transport?
In my opinion, politics should create a framework that allows innovation to flourish. Later on, the market will decide which option will be best, depending of the individual need of the people and the sectors. In road transport, synthetic fuels, along with biofuels, will play a key role.
On top, we need hydrogen anyhow as seasonal storage for electricity. Further refining it towards synthetic fuels is the obvious thing to do. Especially since this would allow us Europeans to reduce our dependencies from some problematic suppliers.
After all, it doesn´t matter which vehicle type or which mode uses what. The atmosphere does not care which mode saves which amount of CO₂.
Oil prices have been extremely volatile since Russia's invasion of Ukraine. Some member states have put in place subsidies to keep petrol prices down. Do you think governments should be taking action, or should it be up to the market to set the price of petrol and diesel?
The market should be able to work independently within a given frame. Nevertheless, no system is flawless so some interventions from time to time are necessary. People need urgent support now; therefore, it is right if governments respond appropriately and timely.
In the long run, we must exploit Europe's strength, which has always been innovation and research. A big safeguard is the internal market and own resources, both have to be improved and this will help to stabilise prices.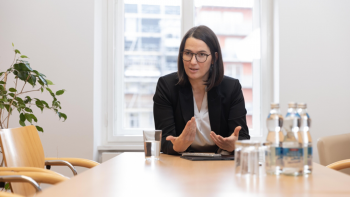 The proposed Alternative Fuels Infrastructure Regulation aims for higher charging and refuelling point targets. There has been criticism that the timeline favoured by the Council is too gradual. Do you think member states should be more ambitious in terms of alternative fuelling infrastructure? 
It seems to be the normal setup these days. Parliament is ambitious and Council is cautious. Don't get me wrong, it is two sides of the same coin.
Moreover, Council has its points, because just building charging stations will not be enough. The transmission grid needs to be upgraded as well, and building new transmission grids is extremely costly and lengthy. Then we need also to build the new renewable power plants, otherwise the whole switch to electricity makes little to no sense.
The clock is ticking, 2030 is already around the corner. Therefore, I think we need to set ourselves targets which can be met. This goes beyond the AFIR, it applies to many files.
Many in the commercial road sector have said that the lack of charging points across Europe is holding them back from choosing clean vehicles. Do you think the EU and member states are doing enough to incentivise a switch to clean heavy-goods vehicles?
I fully support the aim to make our environment cleaner and that we need to play our part in reaching the Paris goals. It is the right thing to do; however, I do not think we should legislate every single inch. It is the job of the market, of the customers, of the business to make their choice.
If a truck runs on biofuel, e-fuels, electricity or hydrogen, it does not really matter and it should be no concern for the legislator. Our main aim is to reduce CO₂ emissions. The way towards this goal should not be a one-path only option.
If we want to keep Europe competitive than we need a regulative environment which encourages competition for the best solutions. This creates technological progress. A one-size fits all regulation on the other hand, does the exact opposite.
Do you support adding commercial road vehicles to the EU's Emissions Trading Scheme? If the Council's position to gradually build alternative fuel infrastructure wins out, should commercial road transport still be included in the ETS given many operators will be reluctant to switch to clean vehicles due to lack of charging points?
In general, a market-based ETS is a good tool, if it is used in the right way. Applying it to commercial transport only, is not the right way at all. Hauliers can simply pass on the costs and so there is literally no incentive for fuel producers to switch to alternatives.
The recent hikes at the fuel pump correspond to a CO₂ price of €400 per ton. As we saw, nothing changed – at the end the consumer pays. So it is just a new tax on CO₂, hitting those who cannot pass it on down the chain.
Operators will switch when the conditions are right, when vehicles are available at reasonable prices and if the infrastructure is there. Possibly this will differ from case to case, from Member State to Member State, but maybe it is also a sign that we as legislators have to rethink our stance towards biofuels and e-fuels.
This article is part of Euractiv`s special report on decarbonising the commercial road transport sector.