IRU was involved in a wide range of activities at the UN's 85th Inland Transport Committee (ITC) session this week, driving road transport forward with its members, governments and international organisations.
It was a busy week in Geneva. Road transport actors from around the world were in town for the 85th ITC session, including delegations from the UN Economic Commission for Europe (UNECE)'s 56 member states and far beyond.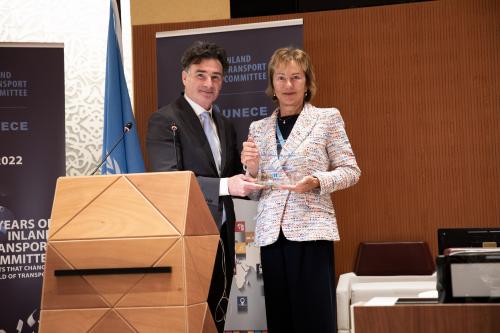 IRU was involved in the opening session, high-level roundtables and bilateral meetings on pressing road transport challenges. 
The week also saw IRU Secretary General Umberto de Pretto present UNECE Executive Secretary Olga Algayerova with a special plaque commemorating 75 years of partnership.
Scaling up innovative climate solutions
IRU spoke on a high-level panel with ministers that focused on how regulators and innovators can scale up technologies to sustainably meet decarbonisation targets.
The road transport sector is committed to reaching net-zero CO₂ emissions by 2050.  IRU's Green Compact maps collective action from industry and government to achieve carbon neutrality in road transport services by 2050.
Umberto de Pretto emphasised the highly innovative structure of the sector, as well as the political will and global coordination needed to implement quick wins and regional solutions.
"It's all about being innovative. Innovative high-capacity trucks. Innovative driver training. Innovative monitoring solutions. For example, replacing just 30% of the global truck fleet with eco-trucks, thus three trucks with two trucks, would immediately cut CO₂ emissions by 237 million tonnes annually. That's a quick win," highlighted Umberto de Pretto.
"Up to 15 % of fuel can be saved by a trained driver. That's another quick win."
"When it comes to passenger transport, a single coach can replace 30 cars on longer journeys. Coaches and buses emit 81% less CO₂ per passenger kilometre than cars," pointed out Umberto de Pretto.
"Those are just a few solutions that we can implement more easily and quickly than much of what is often discussed, such as alternative fuels infrastructure," he added.
"Of course, we also have proven UN tools, such as the TIR Convention, that can reduce emissions by cutting border queues, on top of moving goods efficiently," emphasised Umberto de Pretto.
Turkmenistan roundtable: landlocked countries and decarbonisation
UNECE Executive Secretary Olga Algayerova and the Mission of Turkmenistan's Ambassador, Atageldi Haljanov, also held a side event roundtable on avenues to accelerate landlocked developing countries' transition to low-carbon transport as well as achieving better connectivity.
Once again, IRU's Secretary General put the focus on quick wins and regionally adaptable and scalable solutions, as well as available UN instruments.
"We can't forget about tried-and-tested UN tools, such as CMR and TIR. Out of 32 landlocked countries, only 10 have acceded to TIR. How can trucks inching forward at borders for hours, days and even weeks while emitting CO₂ emissions be in any way construed as sustainably contributing to economic development, social equity and environmental protection? This can easily be solved with TIR. Solutions are available. But they require political will and action, not empty words about the SDGs," said Umberto de Pretto.
"UN tools can turn landlocked countries to landlinked countries. We just have to give them the chance. Uzbekistan, a double land locked country, is the second biggest user of the TIR system and successfully driving its economy by making full use of this UN instrument," he concluded.
Global economic development: challenges and opportunities
On the closing day of ITC, IRU's Director of TIR and Transit, Tatiana Rey-Bellet, spoke at a roundtable on the 2030 sustainable development agenda and the challenges and opportunities facing global economic prosperity and development.
Tatiana Rey-Bellet underlined the importance of harmonisation and UN conventions, such as TIR and CMR, to improve the resilience of supply chains, "Challenges are building for supply chains and transit flows are moving to alternative routes. Such developments are putting additional pressure on borders, resulting in queues that can even exceed 60km.
"To overcome these challenges, the public and private sector need to maximise the benefits of international instruments to facilitate border crossings while strengthening their security."
Iran's role in connecting east and west
A delegation from Iran's Road Maintenance and Transportation Organization and Ministry of Roads and Urban Development of Iran (MRUD-RMTO), as well as IRU member the Iran Chamber of Commerce, Industries, Mines and Agriculture (ICCIMA), held high-level talks with IRU's Secretary General.
Javad Hedayati, RMTO's Director General for the Department of Transit and International Transport, highlighted the increase of transit via corridors crossing Iran.
He also underlined that the recent opening of Turkmenistan's borders will increase transit volume through the Southern Corridor, which connects east and west via Turkmenistan and Iran.
Javad Hedayati then added that considering the capacity limitations of the Middle Corridor crossing the Caspian Sea, the Southern Corridor could step in to absorb more trade volume.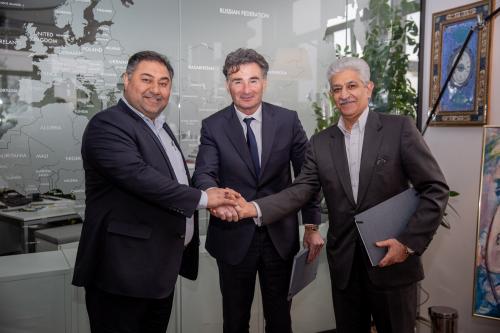 Umberto de Pretto welcomed RMTO and Iranian customs' successful efforts to promote the country as a key regional transit hub. He referred to the recent opening of ICCIMA's new TIR office in the port city of Bandar Abbas and the implementation of digital TIR with India as examples of positive measures.
Both sides also discussed possible paths to further professionalise the sector, including professional drivers and managers.