The United Arab Emirates has become the first country in the Gulf Cooperation Council region to move forward on digitalising the TIR system.
At a ceremony held yesterday in Dubai and virtually, a Memorandum of Understanding was signed in the presence of H.E Ahmed Abdullah Bin Lahej Al Falasi, Director-General of the UAE's Federal Customs Authority; H.E. Mohammed Ahmed Ben Sulayem, President of IRU member the Automobile and Touring Club of the UAE, and IRU Secretary General Umberto de Pretto.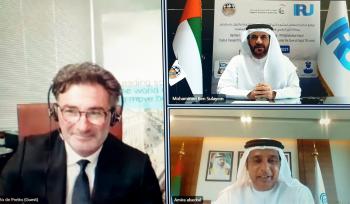 Digital transformation is crucial in helping customs authorities streamline processes while enhancing safety, security and competiveness in today's rapidly evolving business and trade environment. 
"The UAE's impetus to digitalise TIR demonstrates their commitment to make trade and border crossings as efficient as possible with the digital transformation of customs procedures," said Umberto de Pretto.  
"It will undoubtedly bring real benefits for transport and logistics operators in the UAE and the wider region. I encourage all authorities in the Middle East to follow suite and digitalise their TIR customs procedures," he added. 
TIR has proven to be an excellent trade facilitation tool in the GCC region, with its use significantly reducing waiting times at borders by up to 92% and improving customs security while providing the needed guarantee for custom taxes and duties.