IRU partner Middle East Logistics High Institute (MELI), a subsidiary of Almajdouie Group, has trained, assessed and certified over 4,000 truck drivers in the Kingdom of Saudi Arabia (KSA) by following and applying the standards set by IRU to ensure a high quality of service in the transport of dangerous good by road. 
Commercial drivers play a key role in ensuring the delivery of sensitive goods, and they largely contribute to the development of the society and the economy. Thus, they are at the centre of the logistics pillar of the KSA's Vision 2030. To ensure safe, efficient and sustainable transport, and to support their professional development, it is therefore paramount that all commercial drivers receive high quality training on new challenges in the industry.
MELI has collaborated with IRU to provide this necessary training, in the form of the IRU RoadMasters programme, so that logistics companies can reinforce safety processes across their supply chains. 
With its several digital dashboards, the programme provides companies with valuable insights to help manage their talents and mitigate operational risks. In addition, successful participants in the IRU RoadMasters programme receive international recognition with the IRU international certificate.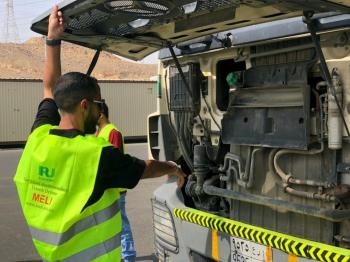 MELI Manager Amer Badarneh stated: "Over the past two years, we have trained more than 4,000 truck drivers, which has contributed significantly to enhancing safety and professionalism in our industry. We look forward to continuing our work and further raising standards across the Kingdom."
Patrick Philipp, IRU's Director Certification and Standards, said: "We are really proud to work with MELI, which has been leading the effort to deliver specialised training and make Saudi Arabia's roads even safer."
All IRU RoadMasters programmes are tailored to the needs of a specific type of transport and were developed based on international best practices. The programmes cover general goods transport and the transport of hydrocarbon products, as well as buses and coaches.