Angel Nava del Val, better known as Ángelo, used to play as a left-back for professional Spanish football team Málaga CF. Since his retirement, he's managed to stay close to his boyhood team. With now a different role as Málaga CF's official driver, Ángelo, 56, tells us his story.
I played as left-back for Málaga CF for six seasons. But I was at the club from a young age. Of course, it's every young boy's dream to become a professional football player. But now, I'm the official driver of the team, and I must say, I still feel like one of the boys.
A lot of things have not changed since my time as a player. The jersey is still more or less the same. Every time I see the jersey, it takes me back. I will always feel nostalgic about that period. It's where I spent my most formative years as a footballer.
Although I'm no longer contributing on the pitch, I still have the same attitude towards the team: how can I best help and serve the club and players?
Back to my roots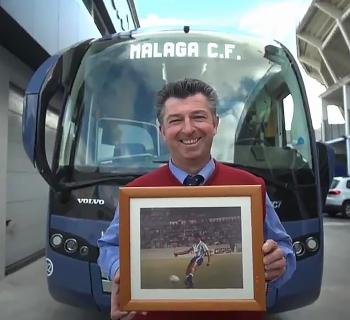 I have now been the official driver of the first team for three years. Prior to that, I shared the responsibility with my colleagues at Autocares Vázquez Olmedo. I really enjoy my job. The players are absolutely terrific. It takes be back to my roots.
I have a lot of great memories as a driver. One of my favourite ones involves Real Bebtis captain and Spanish international Joaquín. He scared the living hell out of me when I was trying to enter a hotel through an extremely narrow path. I was fully focused on not hitting anything when I heard a loud noise. It sounded like a window had smashed. But it was Joaquín who had hit the window as a "joke". My heart almost came out of my chest. Everyone in the back burst out laughing. The back is where the "funny" players sit.
Being able to remain so close to the team has been a blessing. My second career as a coach driver has allowed be to continue living a fulfilling life. 
This article, which is based on an interview conducted by IRU member CONFEBUS, is the final piece of a three-part series profiling professional football teams' coach drivers. In the second story, Jose Angel Cueto Lopez, who was the driver of Spanish side Real Racing Club de Santander for over 35 years, shares some of his fondest memories following his retirement. In the second article, Franco Pala tells us what it's like to be the driver of a historic Italian team.
Whether it's to take commuters to school or work every day, tourists to their destinations, or athletes of all ages to their games, more drivers are needed. Something Europe – as well as other regions – currently lacks. Bus and coach services, the most used collective transport mode in the EU, are also central to Europe's decarbonisation ambitions. 
Our latest report on the passenger sector forecasts that Europe could have a very serious shortage of bus and coach drivers in the coming years: as much as 50% of total positions could be unfilled in 2026 if no action is taken. Europe has an ageing professional driver population, with 30% of drivers who are currently above 55 retiring by 2026, while only 2% are below 25 years of age.
The public and private sectors need to work together to tackle driver shortages. Our report on the sector outlines solutions that road transport associations, companies and shippers are currently implementing.
Governments also need to take action to prevent the shortage from escalating, including setting the minimum driving age at 18, with training from 17, and subsidising licence and training costs for new drivers. 
The revision of the EU Driving Licence Directive offers an opportunity to improve the attractiveness and accessibility of the profession in Europe. In our Position paper, we put forth the industry's full set of proposals for the revision of the EU Driving Licence Directive.