Jose Angel Cueto Lopez drove Real Racing Club de Santander football players to their games every week for over 35 years. IRU member and Spanish operator ALSA, who Jose Lopez worked for, spoke with him soon after his retirement about his career as a professional driver. As the World Cup gets underway, here are some of his fondest memories.
I retired in June 2022 after 35 years. 35 unforgettable years. But retiring in the same year as when Racing got promoted back to Spain's second division, LaLiga 2, now that is the greatest farewell gift I could have ever asked for.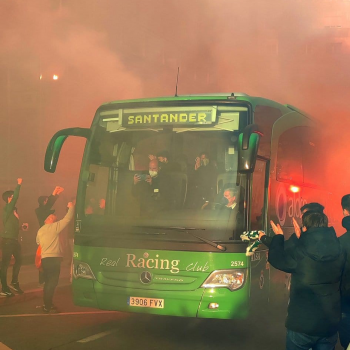 But to be honest, every week was magical. Driving the team to their games was magical. You really feel like you are part of the team. I am so happy and proud of my time travelling around Spain with Racing.
And then, once you start approaching the stadium, you see all the fans waiting for the team and their favourite players, that's another unforgettable experience. The feeling you get is indescribable. The atmosphere is electric. Children go absolutely crazy. They know that their favourite players, who they see on TV every week, are about to step out of the bus. Just a unique, dream-like experience.
I will forever be grateful for this opportunity and job. I always tell young people, half-jokingly, that if you don't become a professional football player, how about becoming a coach driver? I entered this profession when I was quite young, and I've never looked back. Not only did I get to travel Spain, but I got to work with professional football players. What more can you ask for?
Fondest memories and player pranks
I have so many great memories from my time as Racing's coach driver. One of the funnier moments, especially looking back, happened at the airport in the Canary Islands. We had loaded all the bags and we were about to leave the airport when I realised that the trunk had closed automatically with one of the players in it. Thankfully, the player had started banging on the walls and I realised something was off before we started moving...
The players also liked to joke with me. Once when we were in Madrid having dinner, they announced through the speakers that the police were checking Racing's bus and looking for its driver. I quickly ran outside. But there was no one there. As soon as I came back in, all the players burst out laughing. I knew immediately what had just happened. Amazing memories.
What 35 years. And for it to end with Racing getting promoted back to the second division, I couldn't have dreamt of a better way to retire. I truly feel like I retired at the top of my game!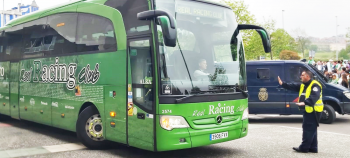 This article is part of a three-part series profiling professional football teams' coach drivers.
Our latest report on the passenger sector forecasts that Spain could have a very serious shortage of bus and coach drivers in the coming years: as much as 50% of total positions could be unfilled in 2026, if no action is taken. Like many other countries, Spain has an ageing professional driver population, with 30% of drivers who are currently above 55 retiring by 2026, while only 2% are below 25 years of age. The share of young drivers is this low, despite of Spain's significant youth unemployment.