IRU member ALSA is investing heavily in different fuel technologies to meet its objective of operating only zero-emission urban buses by 2035, and long-distance coaches by 2040, in Spain. Miguel Angel Alonso, ALSA's Director of Engineering and European Funds, gave us an overview of the progress made so far and what lies ahead.
ALSA was formally established in 1923, but its first operations date back to the late 19th century.
The company has been growing ever since, positioning itself as one of Europe's leading passenger mobility companies, with a presence in Morocco, Portugal, Switzerland, and France.
ALSA now operates an extensive network of intra-European connections through 65 authorised international routes which link Spain to most of the European Union and North Africa. Its modern fleet includes over 5,300 buses and coaches that carried 437 million passengers in 2021 alone.
Since 2020, ALSA has added low- and zero-emission vehicles to its fleet in Spain, whenever its possible to use such vehicles and if they prove to be sustainable. The company currently has a total of 650 alternatively fuelled vehicles. These include battery-electric, hybrid, compressed natural gas, liquefied natural gas, and hydrogen fuel cell-electric. In Spain, 17% of ALSA's total fleet runs on alternative fuels.
"We invest in various types of alternative fuel technologies for different uses and always try to test whatever is available on the market. This allows us to go through the learning curve as soon as possible and understand the pros and cons of each product. Usually, it takes about one to two years of testing before we decide to introduce a vehicle in our own operations," explained Miguel Angel Alonso.
"Based on our activities and experience, we currently see battery-electric to be more suitable for urban transport. However, their lack of range requires such buses to return to the depot to charge for about 4-5 hours every day. Due to this range limitation, only certain routes can be carried out by this type of bus," he added.
Hydrogen for medium- and long-range transport
In 2021, ALSA committed to advancing the use of hydrogen as an alternative fuel, especially in its medium- and long-range operations. In February 2021, it launched its own project to test a hydrogen bus in Madrid and later in Oviedo, Zaragoza and La Coruña as well as in Bilbao and Cantabria.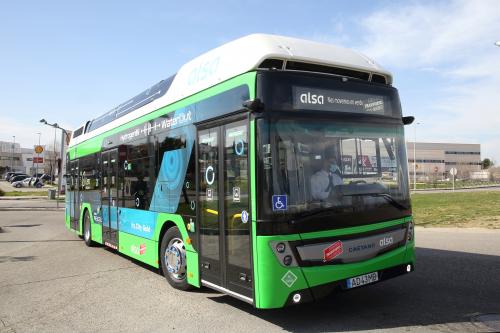 In parallel, ALSA has been forging new partnerships with key players in the mobility sector. It's part of the Shyne project, which aims to promote the use of renewable hydrogen in all transport segments in Spain. Together with partners such as Repsol, Bosch and Scania, the project seeks, among other objectives, to install at least 12 hydrogen refuelling stations by 2025. Shyne is expected to generate more than 13,000 jobs.
"What is necessary is the development of hubs, clusters and corridors which can store and provide green hydrogen in large amounts. We've seen that the time to refuel a hydrogen vehicle is approximately 10 minutes, which is encouraging. However, bottlenecks remain, given the very modest number of hydrogen refuelling stations available in Europe. For now, the price of green hydrogen represents an additional and significant barrier for its uptake to become widespread," said Miguel Angel Alonso.
In January 2022, ALSA deployed its first urban bus powered by renewable hydrogen. The bus is currently operating on a fixed route in the Autonomous Region of Madrid. ALSA has also supported its deployment by installing a new hydrogen refuelling station at its maintenance depot. The second bus will be deployed in February 2023.
Managing the transition phase
ALSA continues to operate Euro 6 buses and coaches for urban, regional and long-distance applications. At present, there is no market-ready solution to replace these vehicles for regional and long-distance transport in the short and medium term that can provide the same efficiency and operational certainty.
"An all-inclusive approach consisting of a variety of fuel technologies must be maintained for the industry to keep transporting passengers to their end destination," concluded Miguel Angel Alonso.
The transition to low- and zero-emission mobility cannot happen overnight, as it requires radical measures. These include increasing the number of available alternative fuels infrastructure while supporting transport operators to make the shift. The shift also needs to happen sustainably, based on different complementary technologies and not just zero-emission vehicles.
Right alternative fuels infrastructure needed
Throughout the ongoing revision of EU rules on the deployment of alternative fuels infrastructure, IRU has stressed the need of having alternative fuels infrastructure available in urban nodes of the Trans-European Transport (TEN-T) Network. Urban nodes are an important first and last-mile destination of any journey and offer an ideal location for vehicles to recharge or refuel.
This story is part of IRU's ongoing series of interviews with operators on alternative fuels infrastructure.
In the first story of the series, we spoke with Peter Harris, Vice President for International Sustainability at UPS. He highlighted the importance of maintaining renewable biofuels as an option, the need for investment to establish reliable and smart electric recharging grids, and the steps UPS is taking to reach its goal of fuelling 40% of its ground operations with alternative fuels by 2025.
For the second article, we interviewed Georges Hilbert, the CEO of Sales-Lentz, a Luxembourgish operator with a wealth of experience running alternatively fuelled buses. He told us that the lack of alternative fuels infrastructure is challenging, especially as coach travel remains without proper alternatives to diesel.