Georges Hilbert is the CEO of Sales-Lentz, a Luxembourgish operator with a wealth of experience running alternatively fuelled buses. He told us that the lack of alternative fuels infrastructure is challenging, especially as coach travel remains without proper alternatives to diesel.
Sales-Lentz, a member of the Luxembourgish Federation of Bus and Coach Operators, was founded in 1948. It is part of the Sales-Lentz Group (SLG), which operates several companies in Luxembourg and Belgium.
In 2009, SLG strategically repositioned itself by embracing environmentally friendly and sustainable transport solutions. Shortly after, they introduced 11 hybrid buses to their regional fleet. Three years later, they added fully hybrid articulated buses, and five years later, fully electric 12-metre buses.
SLG now has a fleet of 700 vehicles with a multitude of different buses and coaches of various sizes for public, regional and international transport.
"We are deeply committed to applying the Paris Climate Agreement adopted in 2015 and playing our part in handing over a society with less CO2 emissions compared to today to younger generations," said Georges Hilbert.
Sales-Lentz was the first company in Luxembourg to operate electric buses and pilot electric autonomous shuttles. Today, SLG operates a total of 120 zero-emission vehicles, half of which were added in the last three months.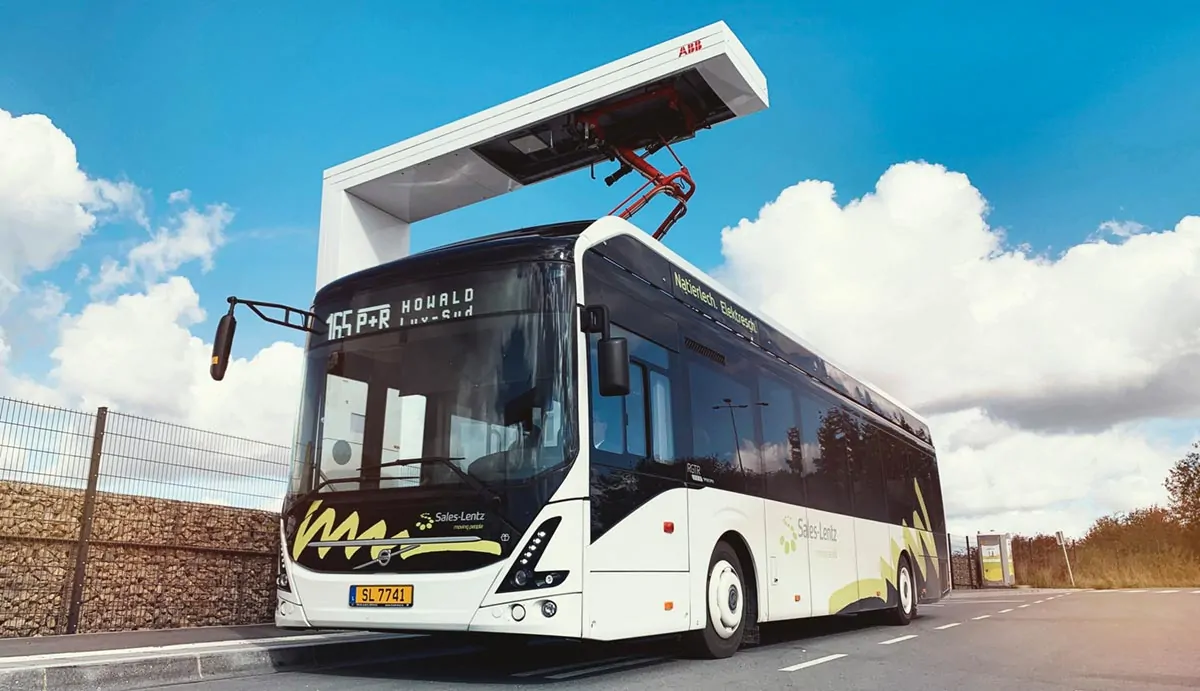 The government of Luxembourg has made it mandatory that 30% of a company's overall mileage must be driven by zero-emission vehicles. By 2024, 40% of regional bus lines must be zero-emission.
With 120 zero-emission vehicles in operation, SLG has put in place strict procedures to coordinate different bus lines and drivers. It is all done digitally through software and digital platforms.
Moreover, the company has made important investments in converting and electrifying existing bus depots in Luxembourg, adding wiring and cabling at nine bus depots. A total of EUR 13 million was invested by SLG in building charging infrastructure.
Charging buses at the depot has a cost
A lack of publicly accessible charging infrastructure remains a significant operational barrier. "Once the battery level of a bus is reaching its low point, we are forced to withdraw the bus from the line and drive it back empty to the depot. This means empty mileages, loss of hours when we could have served passengers, a higher chance of delays, and added stress for drivers who have to make it back to the depot before the battery runs out," explained Georges Hilbert.
There are only a few publicly accessible electric chargers in Luxembourg. Overnight charging remains the most used method to recharge vehicles, which underscores the urgent need for fast chargers. Luxembourg City has only two fast chargers.
The importance of training
Driver training was singled out as a key aspect of decarbonisation efforts. When shifting from diesel to electric vehicles, drivers need to learn more about the anatomy of vehicles, be able to communicate effectively with the supervision centre, and be familiar with relevant IT tools.
SLG has fully embraced digitalisation, providing to drivers a tablet loaded with the driving programme and related instructions, including potential deviations on the road.
"The job of a bus driver is changing as they are now exposed to modern technology, which makes it more attractive," said Georges Hilbert.
The shortage of drivers remains a substantial challenge to the sector. Digitalisation and alternative fuel technologies could play a role in attracting new drivers.
Lack of solutions for coach travel
While battery-electric and hybrid vehicles are being used for urban and regional passenger transport, there is no existing electric, nor hydrogen, solution which is suitable or mature enough for coach travel. Intermediary technologies, such as liquefied natural gas, are currently being used but are not fully zero-emission solutions. SLG is testing the viability of hydrogen fuel-cell vehicles.
However, Georges Hilbert highlighted that there remains important challenges when it comes to the overall cost of operating alternatively fuelled vehicles. "Electric vehicles are more expensive to operate than diesel, while hydrogen is ending up being more costly than electric."
He also noted that the autonomy of hydrogen vehicles is expected to outperform electric ones. It is estimated that hydrogen vehicles could operate for 300-350km without refuelling. Nevertheless, the cost of hydrogen remains too high and renewable hydrogen is difficult to obtain.
"Reaching zero-emission mobility will require a reliable, publicly accessible infrastructure network, as well as sufficient support from authorities, in the form of tenders and incentives," concluded Georges Hilbert.
IRU continues to advocate for a robust presence of alternative fuels infrastructure – including electricity and hydrogen – on motorways and in urban nodes. While the maturity of technologies for short and medium distances is picking up, solutions for cross-border coach travel are lagging behind. Investing in infrastructure and in new technologies should go together if we are to meet the objectives of the European Green Deal.
This story is part of IRU's ongoing series of interviews with operators on alternative fuels infrastructure.
In the first story of the series, we spoke with Peter Harris, Vice President for International Sustainability at UPS. He highlighted the company's environmental vision, the importance of maintaining renewable biofuels as an option, the need for investment support to establish reliable and smart electric recharging grids, and the steps UPS is taking to reach its goal of fuelling 40% of its ground operations with alternative fuels by 2025.