IRU's Secretary General has discussed the key role of coach transport in global mobility, and how governments can unleash its potential, on the occasion of Flix's 10-year anniversary.
Leading mobility provider and IRU member Flix hosted a panel discussion with high-level institutional and industry experts to celebrate its 10-year anniversary. The panel focused on the future of mobility and lessons learnt from the successes and challenges of the past.
IRU Secretary General Umberto de Pretto, who was invited to speak on Flix's panel, commented following the event that, "Collective transport is an optimal and inclusive response to current and future mobility challenges.
"Facilitating the use of buses and coaches is the smartest way to achieve sustainable mobility for all.
"As the voice of commercial road transport operators, IRU wants to see fair competition in the transport market for bus and coach services, where it brings more choices to more people."
"Ultimately, we need a level playing field where all modes of transport complement each other," he added.
Combating climate change: collective transport
The panel also discussed climate change and sustainability as governments and the transport sector look to reduce their CO₂ emissions.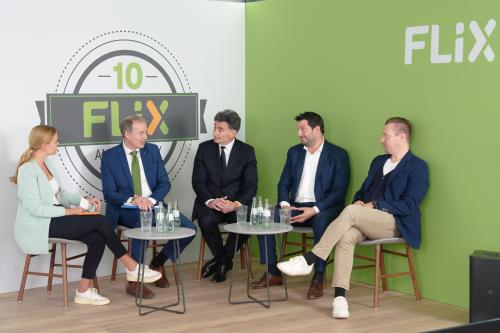 Umberto de Pretto highlighted that, "Buses and coaches are instrumental to effectively achieve our environmental objectives, as embedded in IRU's Green Compact.
"Just one bus replaces over 30 private cars and emits 81% less CO₂ per passenger-kilometre than a car.
"Governments should opt for easy solutions, promoting buses and coaches is a practical and cost-effective solution in terms of public investment."
"The industry is ready to continue investing in innovative green technologies, such as alternative fuel solutions. What we need from governments are real business incentives to accelerate the penetration of new technologies," Umberto de Pretto concluded.