IRU and members have joined the H2Accelerate TRUCKS project to advance the decarbonisation of long-haul trucks across the European Union.
IRU, together with its members FIAP (Italy) and UNTRR (Romania), as well as the Austrian Economic Chamber (through IRU member AISO), have joined one of the EU's biggest zero-emission vehicle projects.
H2Accelerate TRUCKS, which consists of hydrogen producers, infrastructure operators, and vehicle manufacturers, will test 150 hydrogen heavy-duty vehicles on the main north-south corridors connecting Scandinavia to Italy.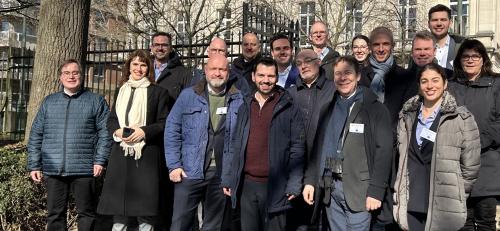 IRU hosted the kick-off meeting of H2Accelerate TRUCKS, which is a key EU-funded project for the deployment of hydrogen trucks spearheaded by the H2Accelerate partnership, in Brussels.
IRU EU Advocacy Director Raluca Marian said, "We are proud to be part of a project implementing concrete research in road transport."
"It will be a true test for hydrogen: 150 hydrogen-powered trucks will run on corridors from Scandinavia to Italy," she added.
The project's collaborators – Daimler Truck, Everfuel, Volvo and IRU members Iveco Group, Shell and TotalEnergies – are working together to enable the use of hydrogen to decarbonise long-haul goods transport across Europe.
The H2Accelerate partnership has also secured funding for the deployment of eight heavy-duty hydrogen refuelling stations through the EU funding instrument "Connecting Europe Facility".
The industry requires a dense EU charging and refuelling network to decarbonise while continuing to support customers and trade in the EU and beyond.
The importance of legislative files such as the Alternative Fuels Infrastructure Regulation (AFIR) and the CO₂ standards for heavy-duty vehicles will be key in facilitating the roll-out of zero-emission vehicles.
The press release for H2Accelerate TRUCKS contains further details on the deployment of the 150 hydrogen trucks and eight heavy-duty hydrogen refuelling stations.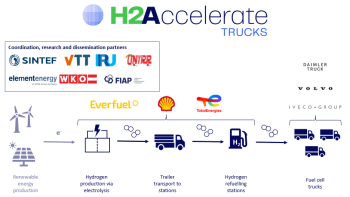 This project has received funding from the Clean Hydrogen Partnership under Grant Agreement No 101101446. The content of this presentation reflects only the author's view. This partnership receives support from the European Union's Horizon Europe research and innovation Programme.