Hundreds of delegates from over 40 countries gathered in Turkmenistan recently to discuss challenges and opportunities in cross-border transport and logistics.
At the second edition of the "International Transport and Transit Corridors: Interconnection and Development" conference and exhibition in Turkmenistan, IRU outlined key measures to enhance transport and transit connectivity.
The conference brought together over 700 delegates from more than 40 countries, representing the public and private sector, international organisations, development partners, and financial institutions. 
IRU Secretary General Umberto de Pretto, along with the leaders of the United Nations Economic Commission for Europe and Economic and Social Commission for Asia and the Pacific, addressed the delegates at the opening ceremony.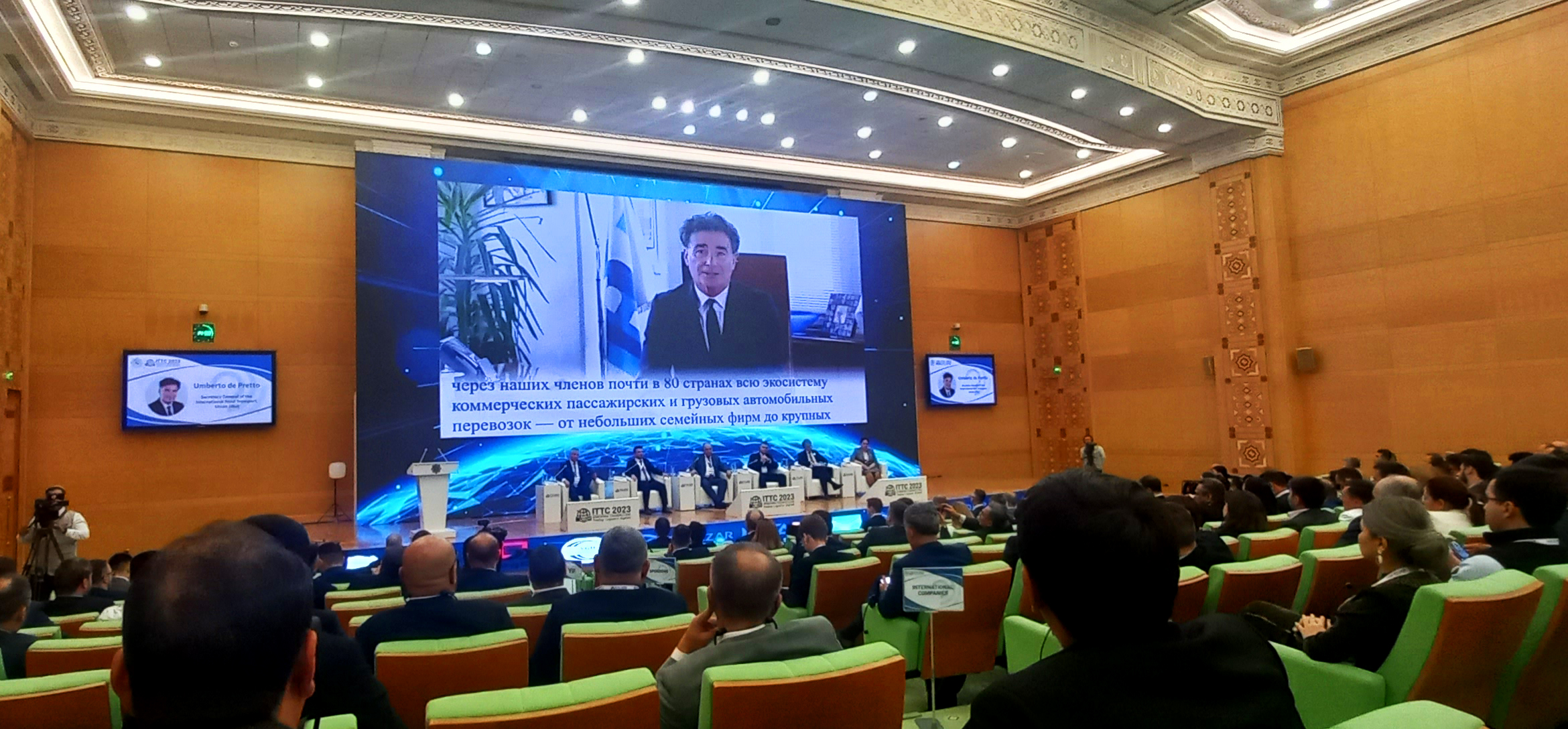 Umberto de Pretto highlighted Turkmenistan and other Central Asian countries' concrete progress in TIR digitalisation and establishing dedicated lanes for secure TIR transport, as well as recent accessions to the e-CMR Protocol.
"Using tried-and-tested UN conventions, such and TIR and CMR, and their digital versions, eTIR and e-CMR, will reinforce security, transparency and trust among all actors involved along the supply chain, while significantly improving the flow of goods," highlighted Umberto de Pretto.
He also encouraged governments and businesses from the region and beyond to benefit from IRU's 75 years of experience and expertise to build a better, greener and more efficient road transport sector.
The government of Turkmenistan invited IRU to moderate the main plenary session on challenges and opportunities in cross-border transport and logistics.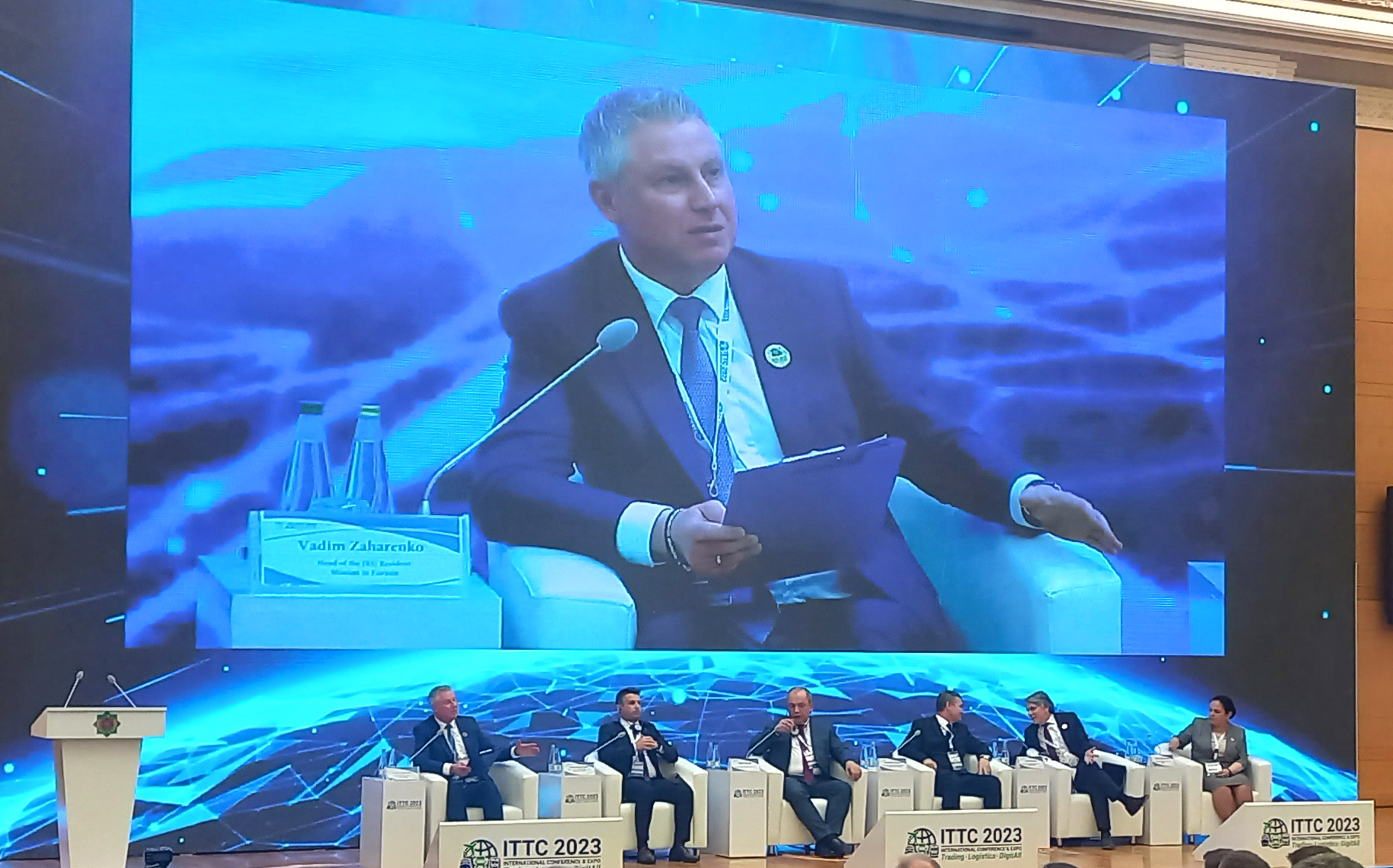 Summarising the discussions of the high-level panellists, IRU's General Delegate to Eurasia, Vadim Zakharenko, highlighted that freight flows through traditional routes have fallen by 50%, while increasing by just as much along evolving transit corridors – or even doubling in some areas. This is overwhelming border crossings, causing bottlenecks and long delays. Investment in both hard and soft solutions are needed to keep up with the growing traffic of goods and vehicles.
Transport ministers and customs cooperation
IRU also held separate meetings with transport ministers and deputy ministers from Tajikistan, Turkmenistan and Romania to discuss cross-border movements, transport digitalisation, customs and commercial documentation, as well as the creation of a professional workforce through international standards and certification.

Within the framework of the Conference, THADA, IRU's member in Turkmenistan, and the State Customs Service of Turkmenistan signed an Addendum to the TIR Guarantee Agreement, setting the legal basis and paving the way for a fully digital exchange of data for goods moved under TIR.
Recognising excellence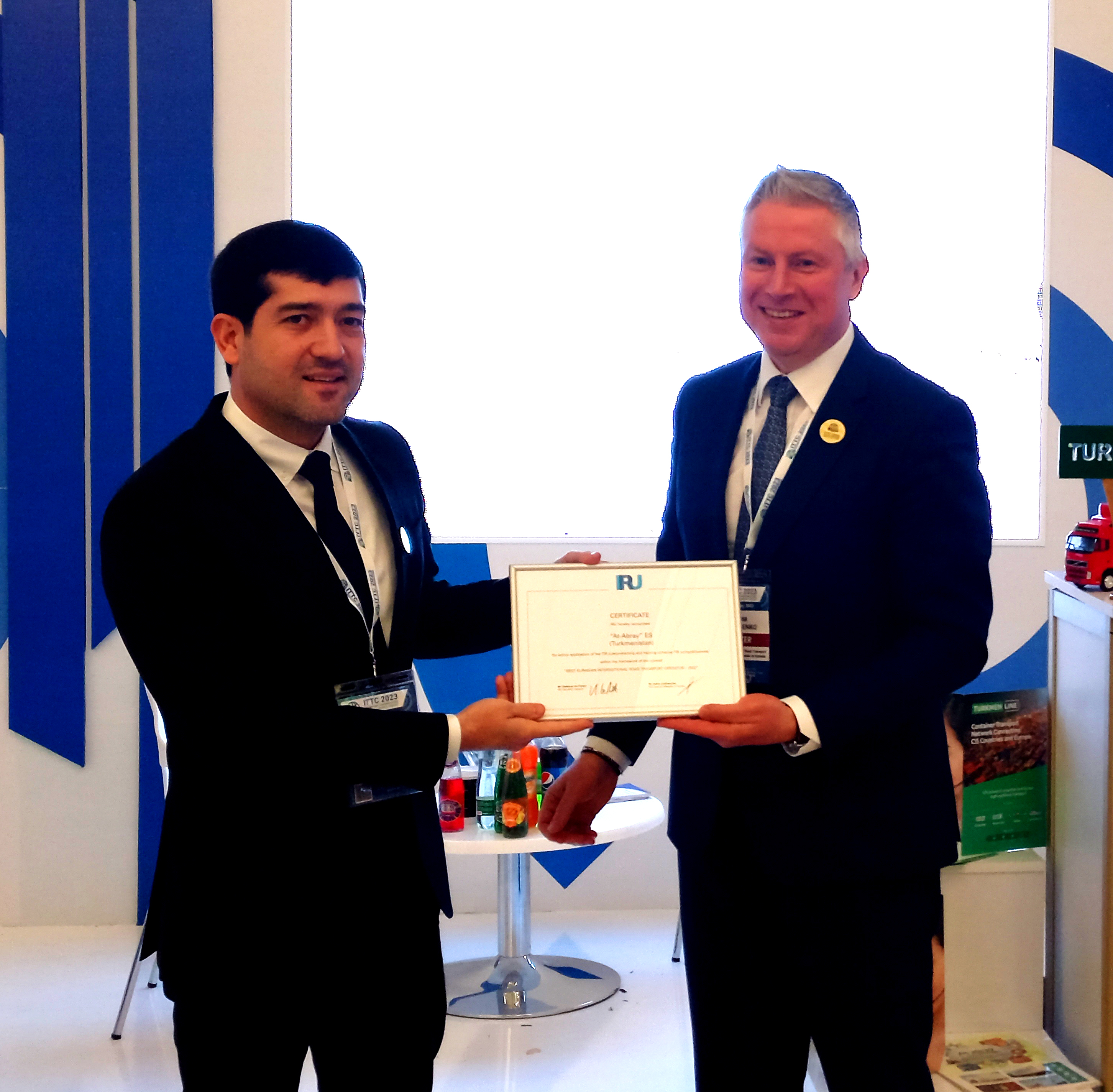 A large exhibition held after the conference offered a comprehensive overview of Turkmenistan's transport and transit potential.
Among the exhibitors was a member of THADA, At-Abray ES, a transport operator. Last year, At-Abray ES was nominated, for the first time, by THADA to represent Turkmenistan in IRU's contest, "Best Eurasian Road Transport Operator". The annual contest recognises excellence and best practices across a range of areas, including economic performance, corporate social responsibility and the environment. 
IRU and THADA visited At-Abray ES's booth and awarded the company with a special certificate recognising its efficient application of TIR and helping to enhance the system in response to the global health crisis.
World Sustainable Transport Day
Turkmenistan continues to demonstrate its support in promoting the role of transport and transit at the global level, supporting sustainable development for all. 
Most recently, the government of Turkmenistan supported IRU in proposing a new UN General Assembly resolution to establish a World Sustainable Transport Day. Starting this year, 26 November will be marked as UN World Sustainable Transport Day.