In a keynote speech in Riyadh, IRU's Secretary General has highlighted the importance of transit and trade facilitation in driving Saudi Arabia's economic development.
Addressing an audience of high-level public and private sector actors at this year's Zakat, Tax and Customs Conference, IRU has emphasised the pivotal role that road transport and trade play in connecting societies and driving economic development in the Kingdom of Saudi Arabia, the wider Gulf Cooperation Council region and globally.
Commenting on the event, IRU Secretary General Umberto de Pretto said, "I'm very happy to be back in Riyadh to address a distinguished audience of industry leaders in the Kingdom. IRU will continue to provide the expertise needed to help Saudi Arabia make trade more efficient and secure across its borders.
"ZATCA's exemplary application of the TIR system will undoubtedly play a key role in making supply chains more resilient across the region. By recognising the importance of TIR in promoting secure and efficient trade, ZATCA is now able to bring much-needed trade facilitation to their border procedures while ensuring the highest level of trade security."
"It is no coincidence that leading logistics operators are now using TIR in their day-to-day operations across Saudi borders. I am confident that Saudi Arabia's positive experience with TIR will help to expand the system's benefits to the rest of the Middle East and beyond," he added.
Supporting the Kingdom's Vision 2030
Umberto de Pretto also reiterated IRU's commitment to support the Kingdom in achieving its 2030 Vision and becoming a leading transit and logistics hub in the Middle East. He highlighted the increasing need for trade efficiency and security which Saudi Arabia enjoys following ZATCA's efforts to bring the benefits of the TIR system to both the public and private sector.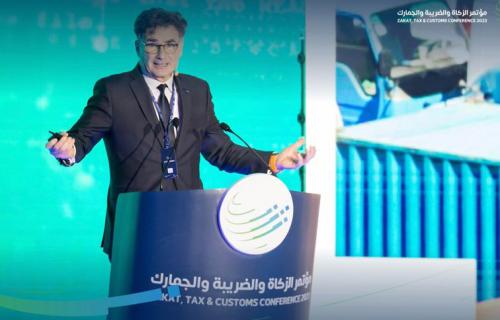 IRU is also equipped, through its advisory services, to support Saudi government authorities in implementing necessary reforms to elevate its road transport industry to the next level in trade facilitation, formalisation and professionalisation.
Umberto de Pretto's participation in the conference, which included an audience of over 5,000 participants, is part of IRU's longstanding partnership with the Zakat, Tax and Customs Authority.