Secretary General Umberto de Pretto has outlined IRU's Green Compact, the commercial road transport sector's decarbonisation roadmap, to high-level Chinese government and business figures. 
Speaking virtually at the Carbon Neutral Development Forum organised by IRU member China Chamber of International Commerce (CCOIC) last week in Beijing, he called for collective and pragmatic action on CO2 emissions with the government and trade community to support China's dual carbon goals.
IRU highlighted the importance of road transport in underpinning global and domestic mobility networks and supply chains, stressing that the key challenge is to reduce and mitigate CO2 emissions from commercial road transport, while safeguarding its fundamental role in driving economic and social prosperity.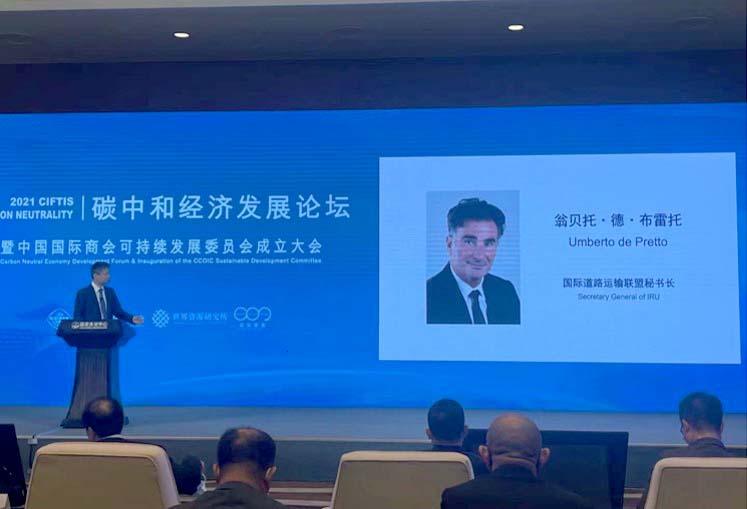 "No single country or company has the solution to our decarbonisation challenge. We must all work together, and we must all learn from each other," said Umberto de Pretto, encouraging collective action and best practices from and with China. 
The Green Compact and its five decarbonisation pillars incorporate a flexible regional and national approach based on different energy and transport landscapes in different parts of the world.
"Delivering the Green Compact's five pillars will allow commercial road transport to cut annual CO2 emissions globally by three billion tonnes over the coming decades, becoming a major driver for green jobs and sustainability," Umberto de Pretto added
Accounting for nearly 30% of the world's carbon emissions, China is taking steps to address its contribution to global climate change. It was one of the first countries to formally ratify the Paris Agreement on climate change in 2015. 
At the UN General Assembly last year, Chinese President Xi Jinping announced China's dual targets: to reach a CO2 emissions peak by 2030, and to achieve carbon neutrality by 2060. In July this year, China officially launched its national carbon market.