Amidst ongoing global supply chain disruptions, IRU and the UN have brought together the logistics sector from Asia and Europe to discuss more resilient east-west road links.
As part of IRU and the UN Economic Commission for Europe's (UNECE) ongoing efforts in promoting transport and trade connectivity between China and Europe, the two organisations ran a joint webinar last week entitled "China-Europe: Better Resilience with Road Transport".
Against a backdrop of global supply chain disruptions due to war, the pandemic, labour shortages and inflation, amongst other issues, shippers and logistics companies are looking for more resilient and robust trade routes between China and Europe. 
Bringing together more than 110 participants from 19 countries – including IRU association and corporate members, businesses, governments, industry institutions and universities – the event highlighted the significance and urgency of diversifying east-west trade corridors to tackle the challenges the industry is facing and achieve better supply chain resilience.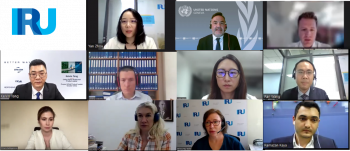 Discussions included the scaling up of alternative routes, for example from China to the EU via Kazakhstan, Azerbaijan, Georgia and Turkey, as well as boosting resilience along established routes, for example by using TIR for the whole intercontinental journey to speed goods across all borders along the entire route. 
IRU Director for TIR and Transit Tatiana Rey-Bellet said, "IRU has been working closely with UNECE, governments, associations and companies to address these challenges, by refocusing on optimising traditional routes, exploring evolving routes and facilitating international cooperation, with an ultimate goal to promote diversified and balanced development of road corridors connecting east and west."
Chief of UNECE's Transport Facilitation and Economics Section Konstantinos Alexopoulos said, "The pandemic, the war in Ukraine, the different disasters and challenges that humanity faces all over the world have taught us that we should have a portfolio of solutions in order to be able to adapt. 
"Adaptation means flexibility and being able to take ad hoc decisions by using proven solutions. One of those, for transit, is the TIR Convention," he added.
Speakers at the webinar expressed optimism about the prospects of China-Europe road transport. IRU corporate member CEVA Logistics and logistics companies from Turkey and Kazakhstan also shared their practical experiences on various China-Europe corridors.  
IRU member associations from China, Kazakhstan, Turkey and Uzbekistan outlined the need to intensify efforts to develop more efficient and sustainable China-Europe road corridors, with particular attention to policy coordination, TIR implementation and business cooperation via IRU's global network.
IRU and UNECE have recently published a joint flyer, Connecting east and west with road transport and TIR, to call for cooperation among governments, businesses and international organisations to diversify trade corridors connecting east and west and secure the stability of international supply chains.