IRU's Secretary General has outlined solutions to key challenges facing the road transport sector at the global road transport trade union conference held in Johannesburg, South Africa.
Starting with the Covid-19 pandemic, several crises have struck the road transport industry in recent years, leading to supply chain instabilities and exacerbating other long-standing challenges, such as excessive border queues.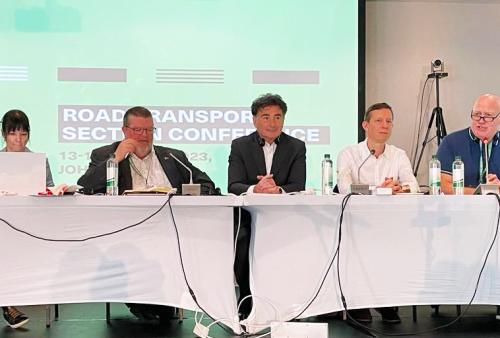 IRU Secretary General Umberto de Pretto addressed some of these key issues at the global road transport trade union conference, "Our drivers are our heroes. Whether that be during the Covid-19 pandemic or now, they must be recognised as essential workers providing indispensable services."
"We can't do anything without our drivers. Improving their working conditions is a leading concern of IRU," he added.
One of the most critical issues facing the road transport industry is the shortage of drivers. IRU's 2022 driver shortage survey found that unfilled commercial driver positions are continuing to increase at alarming rates across the globe.
"How can we attract and retain drivers, including women, given the severe lack of safe and secure parking areas? Or the fact that drivers are often stranded at borders for days, sometimes weeks. What makes it worse is that we have solutions to address most of these problems. But, unfortunately, the political will is not there," said Umberto de Pretto.
"We need to speak with one voice and make governments understand that these unacceptable conditions will lead to economic collapse if not addressed effectively," he added.
There are many tried-and-tested solutions to some of the most pressing problems jeopardising transport operations globally.
"IRU encourages all countries, including Southern African states, to join the TIR and CMR conventions. The ability of these international tools to address key goods transport challenges have been proven time and time again," said Umberto de Pretto.
IRU also discussed other opportunities and obstacles in road goods transport, including digitalisation, and held discussions with industry leaders on skills development and bilateral meetings with high-level government representatives.
The Road Transport Section Conference, organised by the International Transport Workers'​ Federation, was held on 14 March 2023.