Having embraced digitalisation, Moldova is now in the process of laying the groundwork for the implementation of e-CMR.
A Moldovan delegation recently visited IRU to discuss proactive steps that can be taken to implement e-CMR in Moldova and neighbouring countries. Moldova's public and private sectors have been working together to ease the introduction of e-CMR.
With e-CMR, Moldova will benefit from harmonised standards and digitalisation while maintaining the security and transparency of transport operations.    
Moldova's customs authorities have already put in place green lanes (express lanes at border crossings) dedicated to Authorised Economic Operators as well as transport operators that submit advance electronic information via TIR-EPD. This solution is being effectively complemented by an electronic queue mechanism.
To further alleviate the pressure on borders, which has increased sharply due to changing transit routes, the delegation highlighted that optimised border controls, coordinated together by Moldova, Romania and Ukraine, should be another immediate step.
The Moldovan delegation included Mircea Pascaluta, Deputy Minister, State Secretary for Transport, Ministry of Infrastructure and Regional Development; Andrei Slanina, Chief of the Road Transport Directorate, Ministry of Infrastructure and Regional Development; Sergiu Cecoi, Director, National Agency for Road Transport; Ina Angheliuc, Deputy Director, National Agency for Road Transport; Iulian Postica, Administrator, AITA – International Association of Road Haulers; Viorel Doaga, Deputy Head of Revenues and Customs Control Department, Customs Service of MD; Radu Vrabie, Deputy Chief of Party, USAID MISRA Project; and Stanislav Petrascu, Transport and Logistics Specialist, USAID MISRA Project.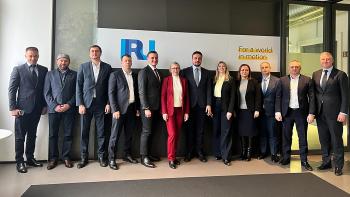 What is e-CMR
Rules for transporting goods internationally are covered by the United Nations Convention for the carriage of goods, the CMR Convention.
In place since 2008, e-CMR, the digital version of the convention, lowers handling costs, eliminates administrative and invoicing delays, and reduces discrepancies at delivery sites. e-CMR enhances transparency and security across the entire logistics chain, providing more accurate data to trace shipments with real-time access to pick-up and delivery information.