The International Transport Forum in Turkmenistan brought together leaders from business, government and international organisations to discuss a range of issues. IRU was there. 
Ashgabat, Turkmenistan's capital city, hosted an International Transport Forum last week, which brought together over 300 delegates representing public and private sectors, international organisations and development partners.
The Government of Turkmenistan invited IRU to moderate the main plenary session, focusing notably on post pandemic recovery of the transport and logistics sector, and the resulting challenges and opportunities that transport is facing.
As many speakers noted, in the context of current trade and transport disruptions, global logistics flows and supply chains are diversifying their geography. As a result, newly evolving corridors are connecting North and South, and East and West. 
Participants agreed that the public and private sector must join efforts in order to increase the capacity of existing corridors and prepare new corridors to carry more freight volumes by leveraging trade facilitation with a focus on security. Instruments from key UN conventions, such as TIR and CMR, are already available and operational to enable this. And they are available in digital formats. 
Countries are encouraged to make use of them as well as IT tools that already exist. IRU stands ready to provide the UN and its agencies, as well as governments, practical advice from the ground and guidance to ensure that, as a global community, we effectively tackle post pandemic needs along trade and transport corridors.
Turkmenistan has made significant progress and is gaining an international recognition as a regional transit hub. The country supports sustainable development by playing an active role in international transport diplomacy, backing a number of UN General Assembly resolutions on transport. 
Reopening borders for international transport and transit, relaunching smooth cross-border operations, shifting from paper to digital documents and offering visa facilitation to professional drivers along a range of corridors will drive trade and economic development to the benefit of the whole region.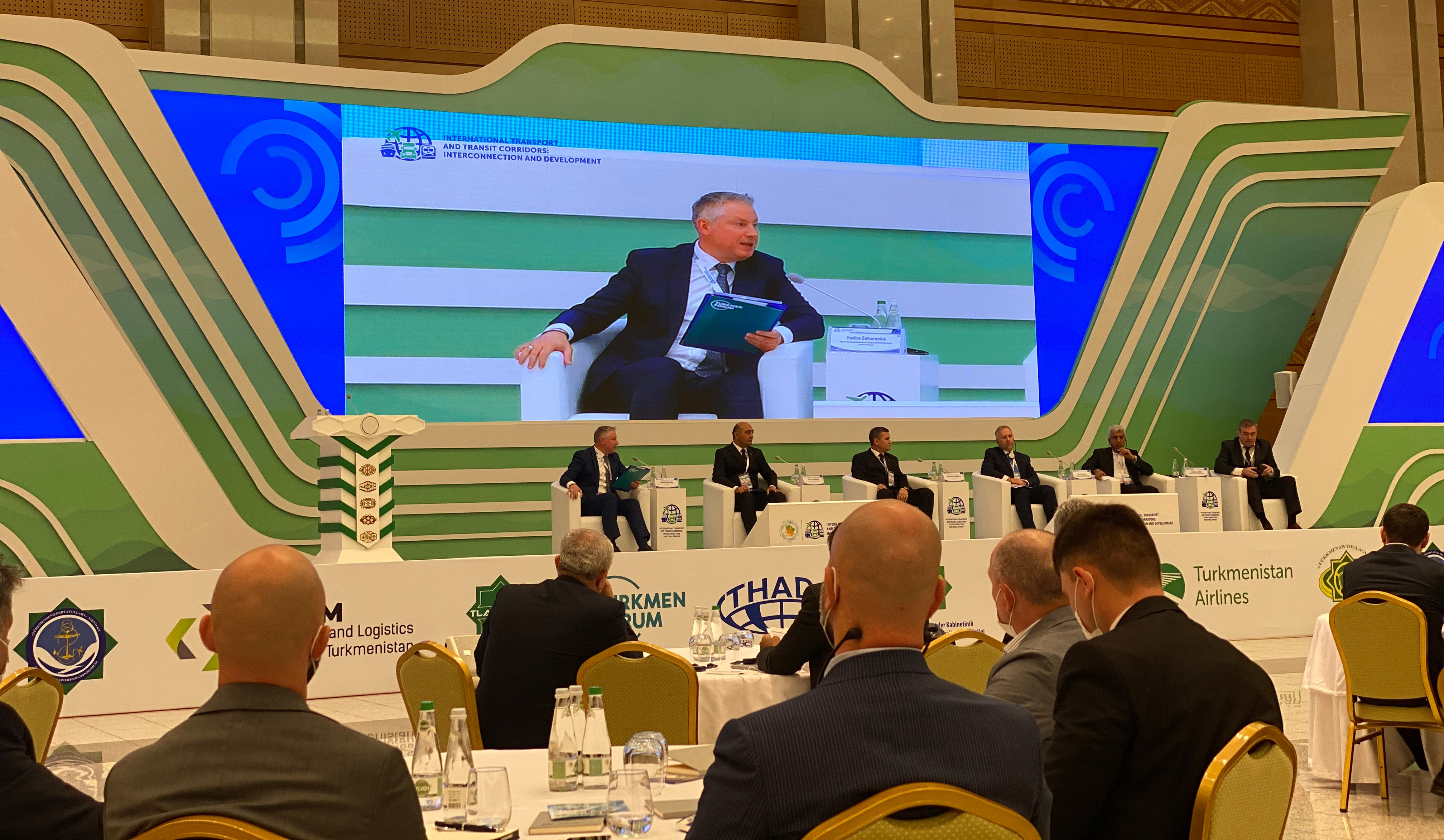 These corridors include the revived Silk Road, the International North-South Transport Corridor (INSTC), the Trans-Caspian International Transport Route or Middle Corridor, the Lapis Lazuli corridor, the Ashgabat Agreement transport corridor (Kazakhstan, Uzbekistan, Turkmenistan, Iran, India, Pakistan, and Oman) and TRACECA routes.
Turkmen officials expressed a firm intention to accede to e-CMR, the digital protocol of the CMR Convention, and to finalise implementation of TIR-related IT tools very soon. In a separate session on digitalisation, IRU also provided an update on digital TIR and e-CMR developments as well as introducing to participants IRU's Business Connections module that helps to find trusted partners and supports the resilience of supply chains.
At the official closing ceremony, IRU's member in Turkmenistan, THADA, received an award for its valuable contribution to championing road transport and trade in Turkmenistan and beyond.
The Government of Turkmenistan also organised for participants several field visits to the newly opened first section of the Ashgabat-Turkmenabat high-speed highway, the Ashgabat International Airport and the Turkmenbashi sea port on the Caspian Sea.