The IRU Innovation and Development Fund supports members in implementing new solutions for the road transport industry. TIR associations submit project concepts for consideration, outlining research and field test plans, new technology components, partnership engagement and benefits for the sector. 
IRU German member BGL successfully applied to the fund for their "trusted carrier" project in 2021. The project was originally developed by BGL and has now been spun off into a stand-alone company, Trusted Carrier, to further develop the solution and its services for road transport and logistics operators. 
The service is up and running, and attracting users in Germany and beyond. We spoke to Trusted Carrier about its solution and the progress it has made since the grant from the Innovation and Development Fund was received. 
What does Trusted Carrier do?
Trusted Carrier offers a modular service for transport partners, drivers and shippers in the form of a universal platform for digital transport clearance before the transport has even started. 
The service aims to avoid inefficiencies and manual interventions, allowing free passage for the vehicle and therefore saving time and costs. 
As an open cloud platform that facilitates participation, the service is based on data provided by vehicles and drivers and objectively verified by the platform. In addition, it is flexible and can be set up for use at different locations.
Trusted Carrier works on an industry-specific basis to meet necessary requirements. Current developments centre on the demanding and safety-focused chemical industry. Other industrial sectors will be rolled out in due course.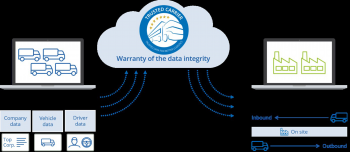 How was the idea born?
In 2016, BGL launched an initiative against freight theft in transport markets, called Trusted Carrier. After successful pilots and positive feedback, Trusted Carrier was founded as an independent company in 2021. 
"The data matching required for transport processing between logistics partners with regard to the transport order, drivers used and transport components, gave us the idea for a solution in which all the necessary data only has to be recorded centrally once. This is why we developed Trusted Carrier: a universal digital communication platform that delivers pre-validated and 100% trustworthy data from drivers and transport components to all involved via an easy-to-use app," says Dr Dirk Engelhardt, BGL Secretary General.
Digitalisation is an important trend in the logistics industry today. Trusted Carrier was developed in collaboration with BGL's Chemical Logistics Specialist Committee and partners from the shipping industry, in order to accelerate the process of transport handling for all parties involved.
With the increasing internationalisation of logistics. BGL included IRU and European sister associations in development activities, to ensure feasibility for cross-border transport as well.
What challenges is the industry facing?
In the extremely fast and dynamic logistics sector, supply chains must act and react in real time to unpredictable changes.
The transport industry is also under constant pressure to reduce costs and increase resource efficiency. In light of the driver shortage, some providers have already had to reduce the number of vehicles in operation. And the pressure is only becoming more intense with higher fuel prices since the war in Ukraine.
On one hand, the liberalisation of the EU transport market has increased competitive pressure on suppliers. On the other hand, the reliability of transport service providers has become even more crucial for customers. 
In this context, the need for documentation and process reliability has increased significantly in recent years, both on the part of the shipping industry and of EU legislation.
How does Trusted Carrier respond?
With fully digital transport clearance, all access conditions can be clarified before reaching the destination. This also allows access without stopping or exiting the vehicle. In the chemical industry, this means a saving of at least 30 minutes on every transport. 
With the Trusted Carrier system, drivers are also relieved of time-consuming administrative tasks. They carry their data conveniently with them for validation in one click, and they avoid waiting in queues unnecessarily.
A real-time communication app, called Wallet, gives all parties involved information about the status of a shipment, allowing them to respond to changing requirements. Available in a wide range of languages, it can also be installed in on-board units.
As a BGL initiative, Trusted Carrier was designed as an open system for universal use at any location, with open interfaces for everyone to connect to. Thus, digital collaboration is not hampered by isolated solutions, individual technology and location-specific requirements. 
Any successes so far?
Several pilots have been successfully run in the chemicals industry.
Henkel has been using the Trusted Carrier Wallet app since February 2021, and a fully digitised transportation process was implemented in May 2022, so that drivers with digital trusted carrier registration can drive through without stopping.
In addition, two other major chemical sites will also use the solution for fully automated digital transport dispatch and digital cooperation in transport handling this year.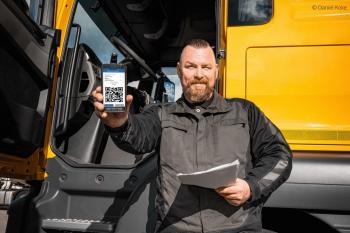 "I use the app several times a day. It simplifies my workday by eliminating check-in documents that otherwise must be filled out by hand, and an additional check-in on my computer," says Patrick Wuthe, a driver at Bertschi.
"Drivers who use the app can be checked in much faster because they send their data to us directly from their smartphone and do not have to wait at pre-registration terminals," says Hubert Zygan, Head of the Düsseldorf-Holthausen transport control centre for Henkel AG. 
How did IRU and the innovation fund help?
The BGL project team coordinated with IRU during the concept phase for the digital expansion of the Trusted Carrier project, long before the company's foundation last year.
IRU has provided technical support for the project, and IRU's Innovation and Development Fund supported the foundation of the stand-alone company. 
What are the plans for the future?
All those involved in the successful development of Trusted Carrier are looking forward to working more closely with IRU, especially as the company becomes more global.
As a universal operating system for cooperative digitalisation between transport partners and shippers, Trusted Carrier aims to reach users across the European transport market, with specific solutions for several industries, beyond chemicals, contributing to the sustainable and efficient digitalisation of logistics processes.