IRU's Secretary General held bilateral talks and spoke at the annual International Transport Forum (ITF) Summit of transport ministers in Leipzig.
IRU outlined key road transport perspectives and issues to transport ministers from around the world at the annual ITF Summit in Leipzig last week.
This year's summit, under the theme of transport enabling sustainable economies, looked at topics such as transport's role in economic growth and stability, the economic benefits of greening transport, and developing safe, inclusive, healthy and resilient transport systems.
Speaking in a session titled "A just transition to net-zero: focus on the transport workforce", IRU Secretary General Umberto de Pretto said, "All our workers are crucial to a just transition to net-zero in commercial road transport, especially our drivers. They need to remain well-trained, involved in decarbonisation efforts and treated with respect."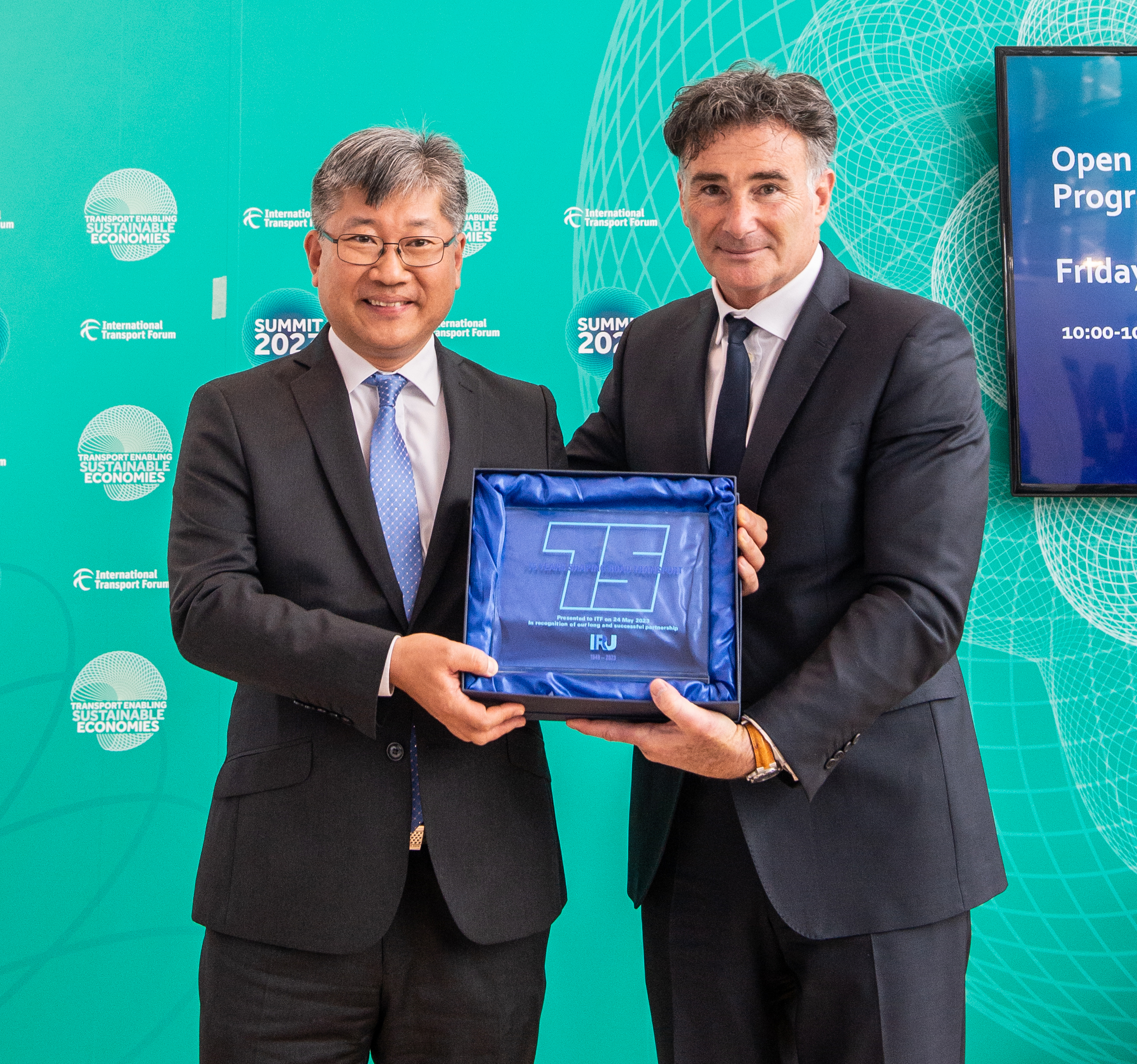 Earlier in the Summit, to mark IRU's own 75th anniversary this year, Umberto de Pretto presented ITF Secretary General Young Tae Kim with a special plaque to commemorate IRU's decades-long partnership with ITF and its forerunner, the European Conference of Ministers of Transport (ECMT).
Umberto de Pretto was also interviewed by the ITF press team on various road transport issues, including driver shortages. 
Bilateral talks were held with key ministers from a range of countries and organisations, including Spain, which is about to take over the presidency of the EU Council, and Lithuania, the president of ITF for the coming year. 
IRU Senior Advisor Jens Hügel also spoke on IRU's Green Compact at several side events, notably a World Bank event on moving goods sustainably for resilient economic growth and integration, and a World Business Council for Sustainable Development (WBCSD) event on accelerating zero-emission vehicle deployment in India.