Professional driver training, trade facilitation and new TIR routes were explored by IRU and Pakistani multimodal transport company NLC at key regional conference in Central Asia.
IRU Secretary General Umberto de Pretto held talks with the delegation of the National Logistics Corporation (NLC) led by the Director General Farrukh Shahzad Rao in Tashkent, Uzbekistan.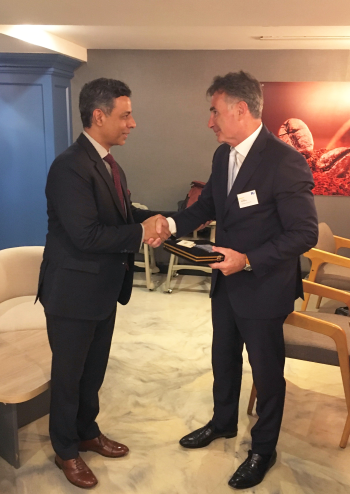 The two met on the sidelines of IRU member the Association of International Road Carriers of Uzbekistan's (AIRCUZ's) regional conference last week, "International Road Transport: Driving Resilience and Prosperity".
As an authorised TIR operator, NLC has pioneered corridors and itineraries by road, leading to record time and cost savings, notably along the Islamabad-Tehran-Istanbul corridor, Pakistan-Iran-Azerbaijan, Pakistan-Afghanistan-Central Asia, and recently along the China-Pakistan Economic Corridor and its extension to Afghanistan.
Farrukh Shahzad Rao briefed IRU on the most recent goods transport pilots and outlined new avenues to connect Pakistani trade and transport with Central Asia and the Commonwealth of Independent States via the TIR system, getting goods to communities and customers even faster and cheaper. 
NLC has expressed interest in expanding its collaboration with IRU and its network beyond TIR, exploring partnerships with IRU on professional driver training and skills management, elevating the Pakistani road transport workforce with international industry standards.