IRU's 2022 North American Transportation Forum (NATF) Leadership Dialogue has brought together senior executives from road transportation companies from Canada, Mexico and the US.
Regional and global road transportation issues were high on the agenda this week in San Diego where IRU's first in-person North American Transportation Forum Leadership Dialogue took place.
Executives from over 20 of the region's leading motor carriers came together with IRU President Radu Dinescu and host, ATA President Chris Spear, to discuss industry challenges, including driver shortages, decarbonisation and infrastructure.
The one-day dialogue included a visit to the Otay-Mesa border crossing between Mexico and the US to inspect operations and meet with US customs authorities on how cross-border goods movements could be made more efficient.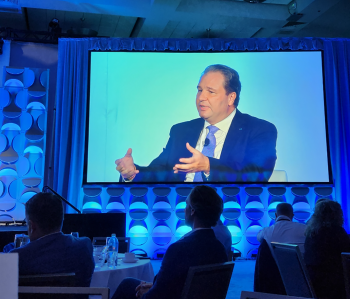 IRU President Radu Dinescu said, "North American carriers are facing similar challenges to road transportation operators around the globe. Bringing motor carrier leaders together from Canada, Mexico and the US helps us put issues into a regional and global perspective, especially when there is a cross-border dimension, and to, ultimately, give our industry a stronger voice."
The dialogue, sponsored by Clarience Technologies, was hosted by IRU member ATA, ahead of their annual Management Conference and Exhibition (MCE) in San Diego, which brings together over 4,000 people from the road transport industry, highlighting economic, regulatory, technology and business trends. The Mexican trucking association, CANACAR, and the Canadian Trucking Alliance (CTA), also provided valuable support in making this NATF event a success.
IRU President Radu Dinescu also spoke on an MCE panel session, giving an international perspective on trucking concerns and opportunities, including driver shortage solutions, decarbonisation pathways, and the need for improved infrastructure.
"Despite the potential negative economic outlook that appears in daily headlines everywhere, the industry maintains a positive and forward-looking perspective as supply chains recover from the pandemic," said Radu Dinescu.
But concerns were also expressed about global political trends. The NATF regional meeting and ATA's MCE provided opportunities to exchange such viewpoints and share perspectives on regional challenges and opportunities.
The US Secretary of Transportation, Pete Buttigieg, also spoke at the MCE event. Referring to the low share of female truck drivers, amid the ongoing driver shortage, Pete Buttigieg said it is "mathematical madness" to not have more women drivers. "Shame on us if we allow it to continue to be the case that we're leaving talent on the table because driving is not considered safe, or considered welcoming, or any of the other barriers."
"My hope is that we will be looking back one day at the 2020s as a period when trucking modernised its future while staying true to its finest traditions," he added.
The North American Transportation Forum brings together IRU members, supply chain leaders, the wider industry and governments to improve cross-border transportation and logistics in North America. It is run in cooperation with IRU members ATA, CANACAR and CTA.