IRU RoadMasters for passenger transport
How IRU measures driver competence for passenger transport
Bus and coach drivers need to be able to do much more than just drive. While skills such as defensive driving and adjusting to different road conditions are essential, drivers also need to be able to ensure passenger comfort, handle requests and respond to on-board and traffic emergencies. 
IRU RoadMasters assessments provide a comprehensive analysis of the skills that bus and coach drivers need. The assessments are tailored to passenger transport and were developed with leading companies in the sector.
Skill areas measured by IRU RoadMasters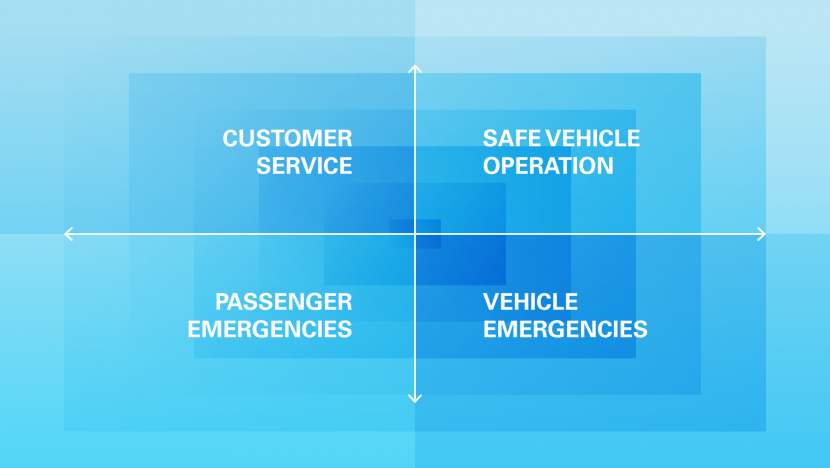 Customer service

Greeting passengers
Responding to passenger inquiries
Managing difficult passenger situations
Managing passengers with special needs

Passenger emergencies

Handling medical emergencies
Dealing with disruptive behaviour
Evacuating passengers

Vehicle operation

Pre-trip vehicle inspection
Boarding and exiting procedures
Hazard perception
Adjusting driving to conditions
Managing stress and fatigue

Vehicle emergencies

Handling system failures
Dealing with accidents
Tackling fires
What's in it for you?
Increase business efficiency
Assessing your drivers enables you to identify areas for development. You can use this information to implement targeted training for individuals, specific teams or the whole company. Training costs are reduced when you only train your drivers in the skills they really need. Driver certification will also enable you to comply with tender requirements, with drivers who keep to timetables and maintain high professional standards.
Manage your risks
In-depth knowledge of your drivers can be used to ensure passenger safety and mitigate the risk of major accidents. Assessment can also be used to screen your mobility partners to ensure that high safety standards are always upheld.
Improve your brand image
Improve customer satisfaction by ensuring your passengers are in good hands. Assess temporary drivers to guarantee high standards of service and a smooth flow of passengers, even at peak times. External internationally recognised certification demonstrates to your customers that you take their safety and comfort seriously.
Work with the right people
Obtaining skills profiles during the recruitment process helps you select the right candidates and tailor their induction programmes to their needs. It also helps your long-term employees to develop their skills and ensure even seldom used skills - such as responding to emergencies - are up to date. Good drivers want to excel in their work and offering them opportunities to improve shows them that their professional excellence is a priority within your company. 
Programme content
Assessment measures customer service and vehicle handling skills, covering everyday best practices and exceptional situations and emergencies.
Customer service & passenger emergencies
Driver is able to:
Ensure passenger comfort
Manage different situations related to passenger inquiries
Deal with medical emergencies on board
Evaluate passengers' needs
Vehicle operation and road emergencies
Driver is able to:
Drive safely and comfortably and adjust to different driving conditions
Conduct vehicle checks and identify critical failures
Manage vehicle while ensuring smooth passenger flow
Deal with road accidents and fire