In light of Iran's growing role in regional trade, IRU and Iran's private and public sectors held high-level talks this week on avenues for further expansion.
Iran's role in trade and transit has increased considerably over recent years. In 2021, the country's overall transit traffic rose by 68%, while transit traffic by road doubled. Transit is forecasted to grow by another 25% by the end of this year.
IRU Secretary General Umberto de Pretto was in Iran this week to discuss how the country can continue along this positive trade and transit trajectory. He held a series of high-level talks, including with the Ministry of Roads and Urban Development, the Ministry of Foreign Affairs, customs authorities, and IRU member ICCIMA.
The authorities and IRU expressed their satisfaction with how they have cooperated and successfully implemented joint projects to further improve east-west and north-south corridors crossing Iran.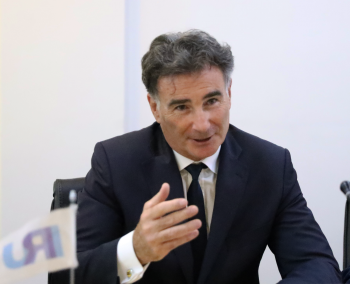 IRU Secretary General Umberto de Pretto said, "Almost every country in the region now plays a pivotal role in trade and transit. And Iran is no exception.
"The growth of Iran's transport sector in recent years has been impressive, making it the number one issuer of TIR carnets in 2021."
"Following my talks here, there is strong support from all authorities to intensify cooperation in many areas to further boost trade in the region and beyond," he added.
"All recognised that Turkmenistan's recent opening of its borders will now permit to connect China to Turkey and Europe via Iran, making the southern corridor a viable alternative to the norther one."
IRU and Iranian public and private actors also emphasised the benefits of using digital trade tools, such as those with the TIR system and the CMR Convention. There was equally a strong interest expressed by the transport ministry to partner with IRU to further improve the professional competence of drivers and road transport managers through IRU training and certification programmes.
Umberto de Pretto also met with HE Ambassador Khusrav Noziri, the Economic Cooperation Organization's (ECO) Secretary General. The secretaries general expressed their satisfaction with how the IRU-ECO partnership has evolved in recent years, which has led to several successful joint projects in the region, such as the opening of the Islamabad-Tehran-Istanbul (ITI) corridor. 
Umberto de Pretto said, "There has been wishful talk about the ITI corridor for decades. Working in partnership with ECO, we turned that talk into reality!"
IRU and ECO agreed to continue strengthening their partnership, including by promoting trade and transit best practices, optimising border crossings throughout the ECO region, and implementing existing digital tools, as well as digitalising all other documentation, such as visas and permits.