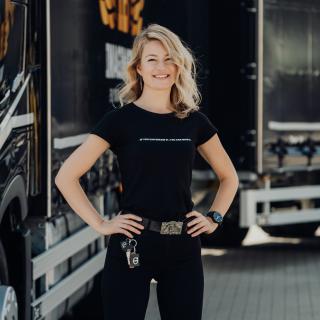 Iwona Blecharczyk
Occupation
Trucker, Influencer, Owner-Operator
Organisation
IMAGINATION IWONA BLECHARCZYK
My calling: truck driver and industry advocate superstar
I'm a passionate truck driver, influencer, business owner – and advocate for the road transport industry.
I've been involved in the industry for over 12 years. I used to be a teacher, but then I found my true calling: a truck driver dedicated to elevating the sector for everyone.
I have driven across Europe, Canada and the United States and navigated 62-metre-long and up to 56-tonne heavy vehicles, conquering demanding environments like diamond mines.
For the past decade, I have used my vast social media presence – with over 1.4 million TikTok followers and 680,000 YouTube subscribers – to raise awareness about the industry and its challenges. 
I am committed to transforming the image of the transport industry and enhancing working conditions for professional drivers. 
I established "Imagination Transport" two years ago. We carry out international land transport with a JUMBO set with a capacity of 20 tonnes with 38 pallet places.
I'm also a firm believer of maintaining a healthy lifestyle on the road. I actively promotee well-being and support charitable initiatives. 
I hope that my unwavering commitment to making a difference in the road transport industry is resonates through my professionalism, humility and dedication to continuous improvement.
The views and opinions expressed by the New Industry Shapers do not necessarily reflect the views or positions of IRU.