TIR: a secure transit solution for UK-EU transports
TIR can now be used by firms to transport goods to and from the UK. Accredited TIR hauliers in the EU, UK and beyond can use this tried and proven system to easily complete customs procedures.
Why use TIR?
Cost effective: one single guarantee, at a fixed price, covers multiple consignments and multiple loading/unloading points.
High guarantee: coverage up to EUR 100,000.
Secure: cargo is sealed at all times, reducing risk of damage and fraud.
Digital pre-declaration: submit cargo information in advance for transit operations on EU territory.
Easy to use: complete formalities directly with customs, without needing a third party.
How it works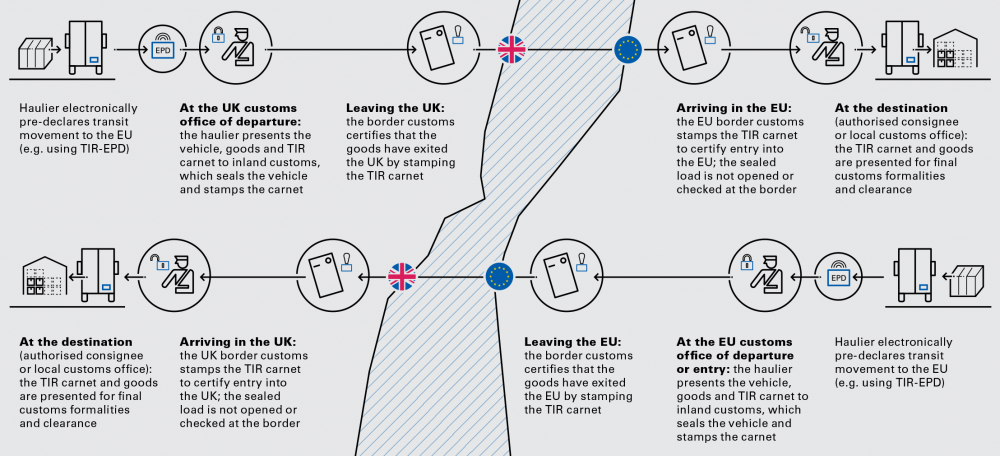 Get started today
For more information on TIR, please contact us.
Brexit and the international road transport sector
The decision by the United Kingdom to leave the European Union has had many implications for international road transport. Even though a trade deal was negotiated in late 2020, days before the UK's transition period ended and already entered into force on 1 January 2021, legal and operational questions remain that need further clarification, and transport operators have concerns on using new processes and systems to move goods and people across the EU-UK border. 
The industry needs clarity and certainty to plan and run their transport businesses. More broadly, international supply chains and mobility networks need to keep running smoothly to avoid damaging trade, jobs and economic growth, especially in light of the pandemic.
Issues that the road transport industry is monitoring
Customs procedures, infrastructure and border issues – the TIR system is now a crucial tool for operators moving goods into and out of the UK, and customs agents and brokers on both sides of the border need to be  trained in order to facilitate its use. Secure parking, customs clearance and sanitary and phytosanitary facilities are also needed to ensure goods keep moving.
Passenger transport – new protocols on advance passenger data exchange for coach transport are also important.
Access to the road transport profession – training of managers and drivers, mutual recognition of qualifications.
Access to the road transport market – who can drive where, when and for how long, including the interpretation and implementation of the cabotage provisions of the EU-UK trade deal.
Social conditions and access to the labour market – driving and rest time rules, and minimum wage rules, especially given the large number of EU nationals employed by UK road transport firms, and that driver shortage remains a pan-European issue.
Traffic rules and enforcement – collecting traffic and driving fines.
Transport documents and mutual recognition – acceptance of licences and other paper and digital documents related to goods or passenger movements.
Vehicle standards, including emissions and weights and dimensions – how will current EU rules continue to apply in the UK, or for UK trucks and coaches in the EU, over time.
IRU's positions on Brexit