Testing 150 hydrogen-powered trucks on corridors connecting Scandinavia to Italy
The H2Accelerate TRUCKS is a project initiated by the H2Accelerate collaboration and backed by funding from leading global original equipment manufacturers, research institutions, and energy infrastructure providers to develop and deploy heavy-duty zero-emission vehicles fuelled by green hydrogen.
The project will deploy 150 fuel cell trucks across Europe between 2025 and 2030, with the aim of developing the technology for mass use.
With the support of this collaboration, the development of heavy-duty zero-emission trucks is expected to accelerate, helping to reduce the environmental impact of the transport industry and provide transport operators with sustainable and economic options to transition to zero-emission vehicles.
The H2Accelerate partnership will also develop eight hydrogen refuelling stations in France and the Netherlands with higher capacity than any public station currently in operation, allowing easy access for trucks operating on major highways.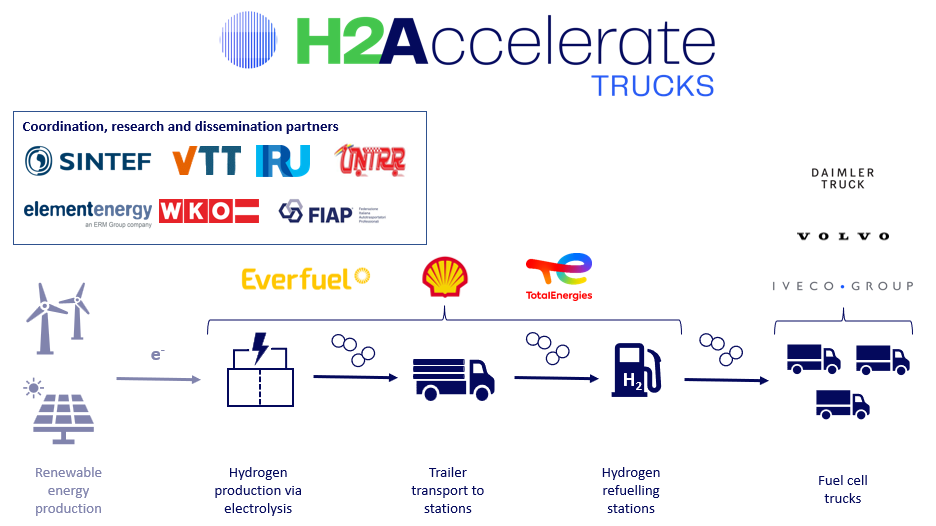 IRU's role
IRU, together with its members FIAP (Italy) and UNTRR (Romania), as well as the Austrian Economic Chamber (through IRU member AISO), has a leading role in the targeted dissemination of the project's activities, ensuring that end users are updated about the project's progress, and lessons learned are communicated effectively to audiences who need to act if the hydrogen truck sector is to accelerate, particularly truck operators with plans to decarbonise their operations.
As the project aims to accelerate the uptake of hydrogen trucks by demonstrating the success of 150 trucks, IRU and all project partners will contribute to building the sector's confidence and supporting policy action.
IRU will also coordinate the project's stakeholder group and involve key partners through a series of presentations, conferences, and the development of end-user focus groups. IRU's role is critical in ensuring that key messages are effectively communicated to target audiences to support the uptake of hydrogen trucks.
Project results
The project is expected to remove barriers to first mover action commonly experienced in such implementation endeavours and pave the way for the wider rollout of zero-emission hydrogen trucks across Europe.
The hydrogen trucks are expected to have ranges of at least 600km. User feedback will provide insights into their experience with hydrogen refuelling infrastructure, which will be used to determine optimum technological solutions for the wider rollout of hydrogen refuelling stations.
The success of the project will indicate the plans' level of maturity and the strategic importance of developing Europe's hydrogen trucking sector.
Multiple long-standing IRU policy priorities are central to the project:
The refined provisions on electric recharging and hydrogen refuelling infrastructure, the alignment on deployment timelines, and a customer-based approach to expanding low-carbon refuelling infrastructure are all part of the European Commission's alternative fuels infrastructure proposal.

The upcoming weights and dimensions proposal will demonstrate the use of hydrogen to decarbonise long-haul goods transport across Europe.

IRU members can participate in the H2Accelarate stakeholder and end-user group.

By advocating for change and participating in projects such as H2Accelarate, IRU aims to create a more sustainable and efficient road transport industry that will benefit its members by reducing their operational costs and improving their environmental performance.