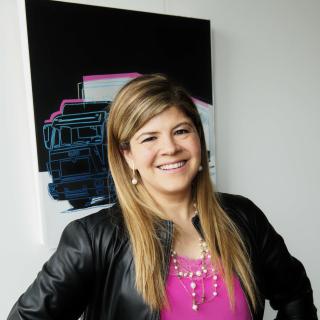 Alejandra Cruz Ross
Occupation
Transport Specialist
The lifeblood of society: honouring the women and men of our industry 
I have been working for almost a decade at the International Labour Organization (ILO) and
was in charge of coordinating the preparation of the draft "Guidelines on the promotion of decent work and road safety in the transport sector" ahead of the 2019 meeting of experts.
When I was preparing the zero draft, I was thinking, "I really want to honour the lives of the men and women in this sector and highlight the importance of sustainable trucking companies, and the key role they both play in weaving the lifeblood of every national economy and international trade."
My previous experience in border planning for the State of Texas gave me the necessary insights and skills to spearhead the preparations for the draft guidelines. For me, there was nothing more transformative than watching countless times the "truck rivers of trade" in Laredo's I-35.
Notwithstanding recruitment and retention challenges that deepened due to Covid-19, the industry and its workers stepped up to ensure the continuous supply of medical equipment and basic goods. 
Truck drivers were recognised as heroes. Yet, long waiting times at borders and shipping facilities, the lack of adequate protections, and challenging working conditions are still very much an issue.
Now that the pandemic has receded, the guidelines, which were passed in 2020, are to be more extensively promoted to offer a human-centred basis for tackling the sector's workforce challenges.
 
The views and opinions expressed by the New Industry Shapers do not necessarily reflect the views or positions of IRU.