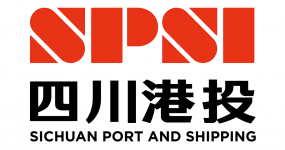 People's Republic of China Chengdu
Member type:
Goods transport, Associate corporate, Transport & Logistics operator
Established in 2019, the Sichuan Port and Shipping Investment Group Co., LTD. (SPSI) is a state-owned capital investment company with over 70 enterprises and 3,300 employees under its jurisdiction.

SPSI concentrates on channels, water ports, land ports infrastructure constructions, comprehensive logistics and trade services, as well as logistics supply chain finance. It is also the builder and promoter of various industrial ecological systems.

SPSI owns five water ports in China, with a container handling capacity of 2.7 million twenty-foot equivalent units (TEU). It has opened over 30 multi-modal transport routes in the country and beyond, and has formed close cooperation mechanisms with more than 130 governments, institutions and enterprises along the Belt and Road Initiative.
 
With an annual turnover of more than CHF 6 billion, SPSI, and its subsidiary "Luhaiyungang Development Group", which is committed to propelling the development of cross-border road transport, joined IRU to develop its international road transport capabilities and enhance its image in the international market, which will contribute to establishing a dynamic national and regional logistics hub for multimodal transport.