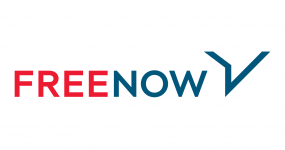 Germany Hamburg
Member type:
Associate, Passenger transport
FREE NOW (formerly mytaxi), is a leading multiservice mobility provider which currently operates in 100 cities across Europe, with 14 million passengers and more than 100,000 driver partners. FREE NOW is part of the mobility joint venture between BMW and Daimler, formed in February 2019. Today, FREE NOW works with more than 900 employees from 69 nations in 26 offices across Europe. Eckart Diepenhorst is the CEO Europe of FREE NOW.

FREE NOW is at the same time part of the FREE NOW Group, which is the ride-hailing joint venture from BMW and Daimler. Other services within the FREE NOW Group are Kapten (available in France, Switzerland and UK), Beat (available in Greece and Latin America) and hive (E-Scooters in five European countries). The FREE NOW Group is led by CEO Marc Berg.
CEO/Director:
Claudia BREURE (Head of Public Affairs)