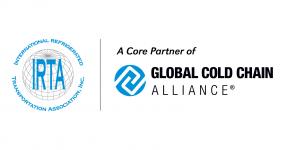 United States of America Alexandria
Member type:
Goods transport, Associate non-corporate, Transport Association
Established in 1994 to meet a growing demand from the transport industry, the International Refrigerated Transportation Association (IRTA) is a non-profit making body that supports the needs and interests of organisations involved in the transport sector for the temperature-controlled industry.

IRTA's operations are closely aligned with those of the International Association of Refrigerated Warehouses (IARW) and the International Association for Cold Storage Construction (IACSC), as the core partners of their umbrella organisation, the Global Cold Chain Alliance (GCCA). Together they represent some 1,200 member companies worldwide.

IRTA's mission is to cultivate, foster and develop commercial and trade relations between those engaged in all aspects of producing, importing, exporting, transporting or warehousing commodities that require temperature and/or atmospheric controls and related services. To achieve its aims, it gathers and disseminates data and information to its members, takes position on their behalf and conducts activities aimed at promoting and strengthening the interests of those engaged in the refrigerated transport and logistics industry.
CEO/Director:
Julie HANSON (Director Europe)