Improving road transport in the Arab world
Road transport helps countries grow and develop. We know that efficient, safe, and fast transport systems help people prosper and economies flourish.
This is especially the case in the Arab region –around 6% of global exports (worth $904b annually) come from this part of the world. At any one time, there are over 4 million goods vehicles driving on around 700,000km of road in the area.
However, there is still plenty of room for growth. To help this happen, there need to be improvements in infrastructure and procedures.
Since 2011, IRU has been working with the Islamic Development Bank (IDB) and the Arab Union of Land Transport (AULT) to make driving in the Arab region safer and easier by:
Training drivers and managers to reduce accidents and increase professionalism in the industry.

Working with governments to address the main causes of accidents in the region.

Helping develop better and quicker procedures for border controls.
Everything that is used or bought has, at one point, been transported on the road.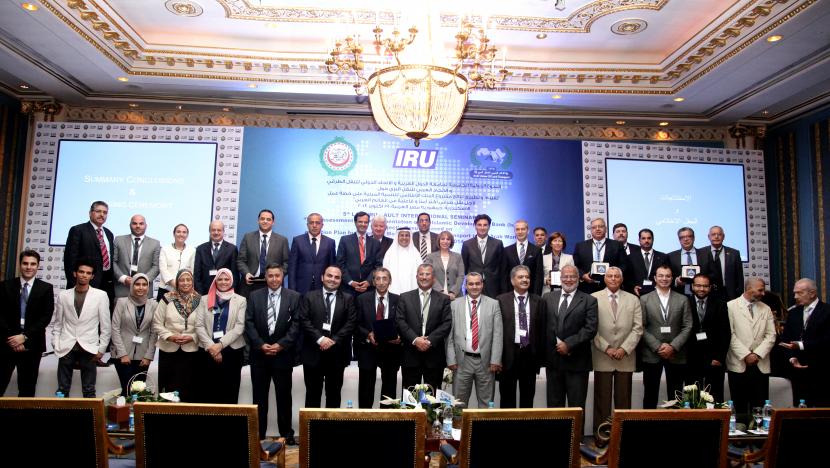 What we did
The IRU – IDB – AULT project had three focus points:
Training drivers
Improving road safety must start with drivers. The project team ran 'train the trainer' courses so local experts could spread best practice and teach drivers how to stay safe on the roads.

Studying road safety
Although the number of accidents in the region is incredibly high, information about why they happen is very difficult to come by. Taking inspiration from work done in the EU, the project team created a dedicated taskforce to look at the reasons for accidents and suggest solutions.

Developing a road map for the region
Sometimes the input of people who've been there before can really help. The project team ran a number of surveys and analysed what the stumbling blocks were and how they were slowing international trade in the area. The end result was a comprehensive action plan with recommendations for change and improvement.
The results
During the course of 18 months, the project:
worked in 7 Arab countries;

ran 9 training programmes;

trained 35 new instructors; and

held 4 national workshops.