Connecting East and West by road
The original Silk Road was created in the second century BC. However, due to massive political upheaval in the region, this great connector between the east and west has been out of use for over 500 years.
Two thirds of the world's population live in Asia. Until recently, trade from this region has been conducted mainly via the sea. IRU has been working to reopen the Silk Road to create a modern trade route that unites today's businesses in Asia with the rest of the world.
Why do we want to reopen the Silk Road?
The various roads along the Silk Road cover over 50,000 km and the countries covered produce over 25% of the world's manufactured goods. Unlocking the Silk Road will offer an alternative trade route between Asia and Europe and help bring progress and prosperity to countries along the way. Businesses using road transport to export and import goods will save time and money if the scheme is implemented correctly.
What obstacles do we face?
The key problems facing road transport companies are largely bureaucratic.
Border waiting times, different customs procedures and roadside checks all make the movement of goods by road in this area arduous. Add to that a huge variety in road quality means sea transit is perceived as a preferred option.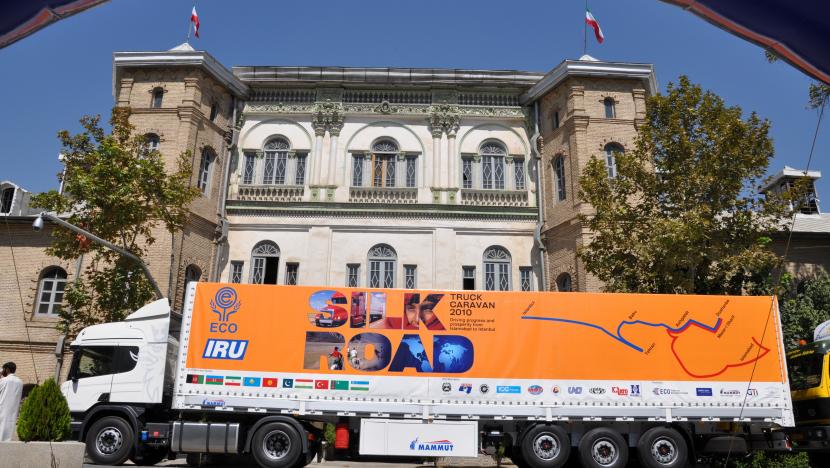 A timeline of work so far
In 2005, IRU launched NELTI, the New Eurasian Land Transport Initiative. This is a multi-stage programme to put the necessary political and physical elements in place to reopen the Silk Road.
2002 – 2007: Successful demonstration road transport caravans (Lisbon-Vladivostok, Beijing-Brussels, and Black Sea Ring Caravan)

2005 – 2009: The NELTI project begins. Political support is gained from key countries along the route including Poland, Kazakhstan, and China.

2009 – 2011: Development of the NELTI road map. Through this preparatory stage, the IRU held roundtables and consultations to help politicians work on harmonising customs and legal systems along the route. The IRU also undertook numerous surveys and made analyses of current road usage in the area.

2010: Silk Road Caravan project. Starting in Pakistan, a caravan of eight trucks made their way to Istanbul. Along the way, they collected data on road conditions and customs procedures.

2011: The third stage of the NELTI project was launched. This stage was focused on gathering information on the main obstacles on the Silk Road.  

2012: NELTI4 is unveiled. An add-on from NELTI3, during this part of the programme, IRU collected real-life data from drivers working on the route.