IRU at the United Nations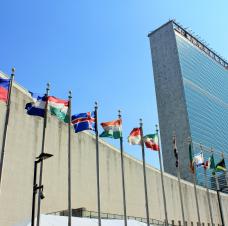 In 2015, the United Nations adopted the 2030 Agenda for Sustainable Development containing a set of Sustainable Development Goals for the next 15 years which build upon the Millennium Development Goals and all touch transport in some way. 2015 also saw the creation of the Global Partnership for Sustainable Transport. IRU has a critical role to play in shaping and informing global agendas.
For the first time, 2016 will see the creation of the United Nations' first conference on sustainable global transport with a focus on safety, security and environmental, and which touch on Goals 9 and 11 of the Sustainable Development Goals, namely Industry, Innovation and Infrastructure, and on Sustainable Cities and Communities.
Being so close to the United Nations and at the heart of policy making, one of the tasks of IRU in New York is to assess many of the new UN conventions currently being established as part of the SDGs and create guidelines for governments and businesses as to how to adopt and implement these resolutions and turn them into actionable items.